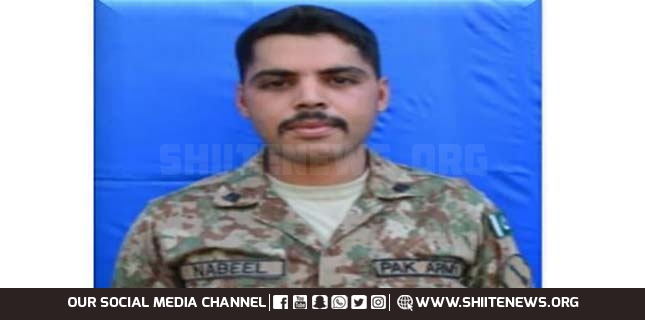 Indian troops unprovoked firing along LoC kills a sepoy of Pakistan Army.
According to the Inter Services Public Relations (ISPR), a sepoy of Pakistan Army Thursday embraced martyrdom, while bravely fighting back Indian Forces' unprovoked ceasefire violation in Dewa Sector.
Indian troops unprovoked firing along LoC kills a sepoy of Pakistan Army
In a brief press statement, it further stated that the Indian troops had initiated unprovoked ceasefire violation along the LoC in Dewa Sector.
However, the Pakistan army troops had responded promptly.
Besides, they inflicted heavy losses to enemy in terms of men and material.
During an intense exchange of fire, Sepoy Nabeel Liaqat, age 28 years resident of Gujar Khan embraced shahadat.
He was responding valiantly to Indian unprovoked ceasefire violation.
Background of terrorism in Pakistan
According to international and Arab media, ISIS Daesh claimed responsibility for massacre of Hazara Shia coalminers.
However, Pakistanis know well that outlawed Sipah Sahaba (ASWJ) and Lashkar-e-Jhangvi serve as local facilitators of Daesh (ISIS).
Nowadays, they also use the name Rah-e-Haq party a cover to divert world public attention from their real affiliation.
Ramzan Mengal and remnants of Usman Kurd follow the ideology of M Ahmed Ludhianvi, Aurangzeb Farooqui. Together they follow the malicious ideology of hate and bigotry of Haq Nawaz Jhangvi.
These sectarian thugs and fanatics came to surface during Martial Law regime of General Zia ul Haq, the ally of the U.S.-led West.
Western bloc in world politics recruited, trained, funded and used them as proxy against ex-USSR under the so-called title of Afghan jihad.
Till now, they continue to wreak havoc in Afghanistan and Pakistan and spread to Syria and Iraq.
Hence, Pakistanis and Middle Eastern people detest United States-led Zionist bloc and allied Arab regimes.
Ironically, Saudi Arabia's embassy in Islamabad hosts the notorious ringleaders of outlawed terrorist outfits such as Ludhianvi and his comrades.
The latter has been serving as henchmen of Saudi monarchy and their allied Zionist bloc.