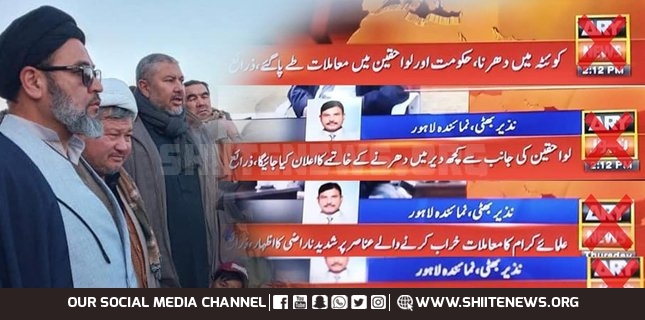 Quetta sit in protesters announce taking coffins of martyrs to Islamabad if Prime Minister Imran Khan doesn't join them.Protesters at the Quetta sit-in camp condemned the government's attempts to create division among the protesting families.
Quetta sit in protesters announce taking coffins of martyrs to Islamabad
They rejected fake news regarding Quetta sit in conclusion.
Former provincial law minister (Balochistan) and incumbent MWM leader Agha Syed Mohammad Raza said burial of the martyrs delayed to PM's indecision.
Meanwhile, Quetta Friday prayers leader Allama Syed Hashim Mousavi who lead the protest sit in released a video message.
He rebuffed fake news regarding sit-in's conclusion. Instead, he clarified sit-in protest continues on 5th consecutive day today (Thursday).
Similarly, protesters at sit-in across Karachi and all over country also vowed to continue sit-in protest.
Meanwhile, the protesters condemned fake news from ARY and Samaa TV channels.
Moreover, protesters asked the media not to spread fake news.
Pakistan is witnessing new wave of Shia genocide since early Sunday (January 03, 2021).
Notorious and ferocious terrorists slaughtered 11 Hazara Shia coalmine workers in Mach (Balochistan).
Their families and Hazara Shia elders have not buried the coffins of the martyred Shia coalmine workers so far.
They are holding a sit-in in Quetta, while Shia Muslims across Pakistan have also come out to express solidarity with them.
Till filing of this report, they continue sit-in protest at many locations in Karachi, rest of Sindh province and rest of Pakistan.
Background
Although Daesh ISIS terrorist group claimed responsibility for massacring Hazara Shia coalminers, Pakistani takfiri outfits work as their local facilitators.
Sit in protest continue from Karachi to Parachinar for Hazara Shia martyrs
Nowadays, they also use the name Rah-e-Haq party a cover to divert world public attention from their real affiliation.
Ramzan Mengal and remnants of Usman Kurd follow the ideology of M Ahmed Ludhianvi, Aurangzeb Farooqui. Together they follow the malicious ideology of hate and bigotry of Haq Nawaz Jhangvi.
These sectarian thugs and fanatics came to surface during Martial Law regime of General Zia ul Haq, the ally of the U.S.-led West.
Notably, Saudi Arabia also belongs to the same bloc and aforesaid takfiri terrorists also remain loyal to Saudi monarchy.
Saudi embassy in Islamabad hosts these terrorists of outlawed takfiri Deobandi nasbi terrorist outfits.