Pakistan
126 children martyred in takfiri Taliban terrorist attack on school in Peshawar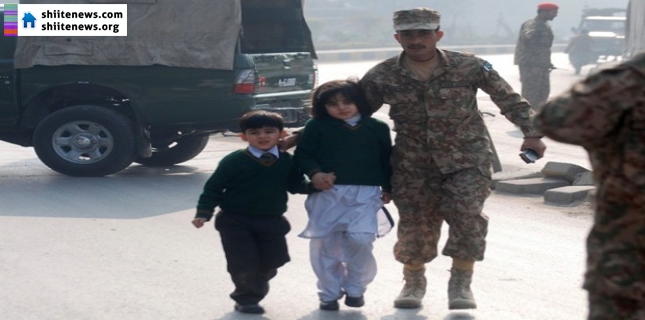 Taliban terrorists stormed into Army Public School where minor students go to study on Warsak Road near Army Housing Colony in Peshawar on Tuesday. 126 people were martyred and vast majority of the victims is children.
Taliban, the most notorious butchers of human flesh ever witnessed in human history, stormed into the school and opened indiscriminate firing that left more than 84 children dead.
In the meantime, security officials cordoned-off the area and launched operation to rescue the children and teachers who the Taliban terrorists held hostages inside the school. So far, martyrdom toll rose to 126, according to Radio Pakistan.
Notorious takfiri Taliban are allies of al-Qaeda, DAESH and Boko Haram. They always massacred innocent Muslims including women and children. They enslaved Shia Muslims in Bamiyan Afghanistan after massacring tens of thousands of them.
Tuesday ferocious Taliban attack brought worldwide condemnation for them and their allies. Jamaat-e-Islami former chief Munawar Hassan had called for holy massacre and people see the continued terrorist attack by Taliban and affiliates in that background too.
Shia parties mainly Shia Ulema Council and Majlis-e-Wahdat-e-Muslimeen have announced 3-days mourning and declared the attack on innocent children a national tragedy. They said that attack on women, children, elderly and ailing persons is forbidden in Islamic laws even during war.