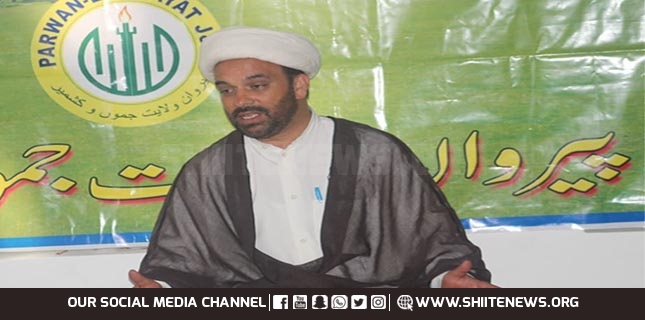 Kashmiri scholar sees Qassem Soleimani as matchless trainer of moral values of Islam.
Head of JK Perwan-e-Wilayat Maulana Sibte Shabbir Qommi said Haj Qassem Soleimani trained generations.
Kashmiri scholar sees Qassem Soleimani as matchless trainer
In an interview, he said Qassem Soleimani became a prominent and top figure in Iran due to his following moral values.
His friends and Iranian nation adore General Qassem Soleimani because of training he was imparting through actions instead of words.
He said that acting upon Islamic ideology in letter and spirit make towering figure such as Soleimani who defeated U.S. machination.
Moreover, he said that General Qassem Soleimani truly followed Islamic ideology and now world remains captivated.
Maulana Sibte Shabbir further said that Haj Qassem influenced and attracted millions due to his pure Islamic ideology.
However, he said praise in words not suffice but we all have to turn us our children into General Qassem Soleimani.
He termed it the best tribute and homage to Soleimani that his admirers follow him and continue his mission.
Kashmiri cleric said that Haj Qassem became thorn in the eye of world arrogant powers due to his pro-oppressed ideology.