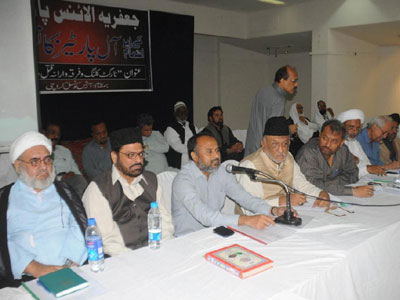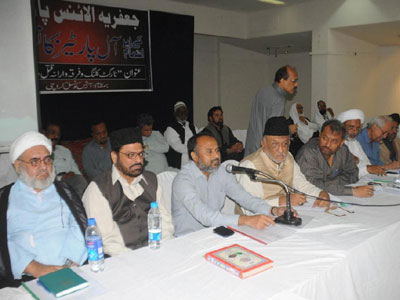 KARACHI- leaders of Political and religio-political parties on Friday demanded of the government to immediately start the ruthless operation against the terrorists involved in the killing of innocent people in Karachi, Quetta, Chilas and Gilgit.
The leaders demanded of the Chief Justice of Pakistan to immediately provide the justice to the victims of sectarian target killings of Quetta, Parachinar, Chilas, Gilgit and Karachi and to provide justice to all the pakistani's equally.
"Government should resign immediately, if they are not cable to prevent the lives of its own citizens from the terrorists" the APC maintained.
These views were expressed by the Jaffaria Alliance Pakistan (JAP) Chief Allama Abbas Kumaili, Waseem Aftab of MQM, Taj Haider of PPP, Rana Gul Afridi of ANP, Iqbal Haider of (HRCP), Nehal Hashmi of PML-N, Bostan Ali Hoti of PML-Q, Qazi Ahmed Noorani Siddiqui of JUP, Subhan Ali Sahil and Aslam Rajput of PTI, Mahfooz Yar Khan (AML) , Binori Town seminary representative Qari Iqbal, Nasaruullah Shajee (JI) , Maulana Shahanshah Naqvi of SUC, Maulana Hussain Masoodi of JAP, Maulana Mirza Yousuf of SAC, Maulana Salahuddin of MWW and others in the All Parties Conference organized by Jaffaria Alliance Pakistan on sectarian killings of Shia Muslims in Pakistan.
The leaders of political and religio-political parties in the adopted resolution expressed their solidarity with the soldiers of Pakistan army trapped in Siachen avalanche and prayed for the health and life of the soldiers.
The APC vehemently condemned the Government of Balochistan over its failure to protect the lives of Shia Hazara community in Quetta from the terrorists and demanded of the federal government to sack the Chief Minister Balochistan Aslam Raisani from his slot over his failure to protect the life of Balochistan people.
The APC demanded of Malakand kind of operation against the terrorists of outlawed outfits in Quetta, Chilas, Karachi, Gilgit, D.I.Khan and Kurram Agency Parachinar to protect the people from the terrorists.
The APC urged the Political and religious parties to avoid the relations and political ties with the banned outfits adding that the Government had banned these organizations because of their involvement in the sectarian killings and hatred in the country.
The APC demanded of the Government to restrict the movement of the banned outfit leaders in the country and not allowed these proscribed outfits to continue its organizational activities by changing names.
Regretting the brutal killings of passengers at Chilas, the APC demanded of the immediate arrest of the killers of Chilas incident and urged the government to provide the alternate routes to the passengers of Gilgit and deployment Pakistan Army on the routes of Islamabad to Gilgit.
The leaders said that the sectarian killings in Quetta and Chilas were the conspiracy to disturb the Pakistan's relations with Iran and China and urged the government to foil the conspiracy of the anti-Pakistan forces forthwith.