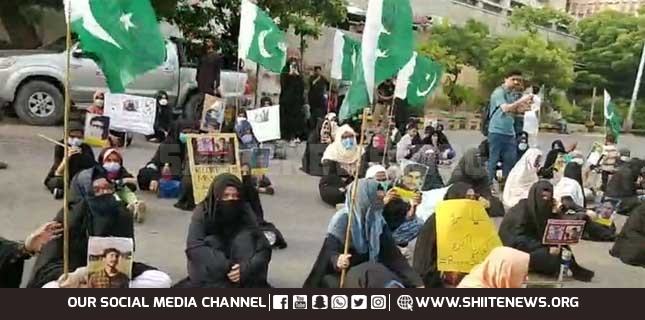 MWM leader assures the families of countrywide campaign for missing Shias, subjected to enforced disappearance.
Families of many Shia missing persons called on Majlis-e-Wahdat-e-Muslimeen Pakistan secretary general Allama Raja Nasir Abbas Jafari during his Karachi visit.
MWM leader assures the families
He assured them that they would launch another movement for release of victims of enforced disappearance.
Furthermore, he said the Joint Action Committee for Shia Missing Persons' Release and the MWM would jointly launch the protest movement shortly.
Allama Raja Nasir said they would meet the top officials of the government again to ensure release of innocent victims of enforced disappearance.
He vowed that MWM and the committee would not sit restfully prior to release of the last such victim.
Background
The families, Joint Action Committee for Shia Missing Persons and MWM jointly run protest movement across Pakistan.
Now, they would resume the protest's new phase.
They have made clear to  the power that be that Shia Muslims would not tolerate violation of their fundamental human rights.
Most importantly,  countrywide protest against enforced disappearance of Shia Muslims continued in phases.
They held stage sit-in outside camp office of President Arif Alvi in Karachi and house of Foreign Minister Shah Mehmood Qureshi in Multan in previous phases.
They have also held sit-in outside official residences of provincial top officials such as Chief Ministers and Governors in Sindh and Punjab
Unfortunately, the authorities subjected Shia Muslims to enforced disappearance without any charge and without right to fair trial.
Meanwhile, Shiite News readers present more news and articles: