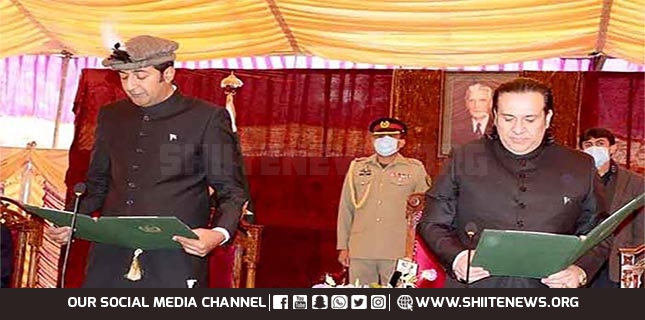 Khalid Khurshid takes oath as Chief Minister Gilgit Baltistan today (Tuesday) while Governor Raja Jalal Maqpoon administered oath to him.
The oath-taking ceremony held at the GB's Governor House.
Elected representatives of the Gilgit Baltistan Assembly, officials, and notables, and leaders of PTI attended the ceremony.
Khalid Khurshid takes oath as Chief Minister
Later, Chief Minister Muhammad Khalid Khurshid issued a statement on twitter. He tweeted that his government will work day and night to address all deprivations that the region witnessed in the past.
After the recent elections in Gilgit-Baltistan, the GBLA members majority elected Pakistan Tehreek-e-Insaf (PTI) Barrister Khalid Khurshid as CM.
Khalid Khurshid bagged 22 votes for the CM post, whereas, Muttahida Opposition candidate Amjad Hussain Advocate got nine votes.
Pakistan Peoples Party's Amjad Hussain managed to won two constituencies due to support of Allama Agha Syed Rahat Hussain al Hussaini.
For the first time any candidate has won two seats – GBA-1 Gilgit-1 and GBA-4 Nagar-1 in the regional election.
On the other hand, MWM GBLA members called on Governor Raja Jalal Maqpoon at Governor House in Gilgit.
Newly elected members Kazim Meesam, Allama Ali Akbar Rajai and Kaneez Fatima discussed public grievances with him.
During the meeting, of Gilgit Baltistan Assembly members discussed overall situation with focus on backwardness of many areas.
Particularly, Majlis-e-Wahdat-e-Muslimeen's Kazim Meesam raised worse conditions in his constituency Skardu II.