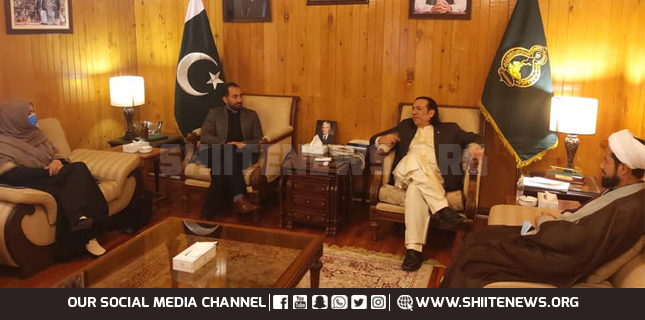 MWM GBLA members meets Governor Raja Jalal Maqpoon at Governor House in Gilgit.
Newly elected members Kazim Meesam, Allama Ali Akbar Rajai and Kaneez Fatima discussed public grievances with him.
MWM GBLA members meets Governor
During the meeting, of Gilgit Baltistan Assembly members discussed overall situation with focus on backwardness of many areas.
Particularly, Majlis-e-Wahdat-e-Muslimeen's Kazim Meesam raised worse conditions in his constituency Skardu II.
Meanwhile, Gilgit Baltistan Governor admitted Skardu II as the most backward area and assured that federal government would take all needed steps to address this genuine issue.
However, he also assured them to realize promises which the federal government made regarding provision of potable drinking water.
Moreover, the GB Governor congratulated Kazim Meesam and through him to Allama Agha Syed Ali Rizvi over MWM's success in the election.