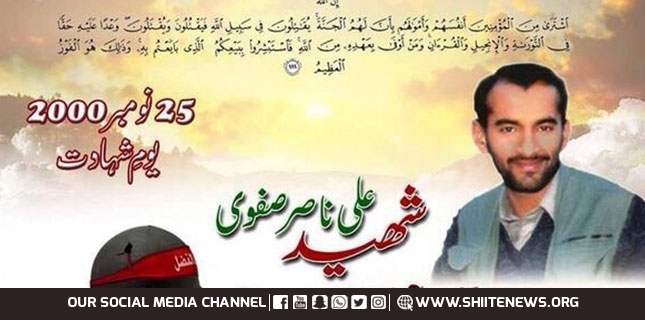 20th anniversary of martyrdom of Ali Nasir Safavi observed with reverence for the great martyr of Pakistan.
His adorers held condolence congregations to mark the 19th anniversary of his martyrdom.
20th anniversary of martyrdom of Ali Nasir Safavi
Reports had it the CIA-led covert operation raided his house.
They assassinated Ali Nasir and his wife at their rental house in Joharabad of district Chakwal near Pakistani capital Islamabad.
His old mother and two little daughters were witnessing the brutal murder of Safavi and his wife.
Mr. Safavi became the first known martyr of the Shia Muslim community of Pakistan, who embraced martyrdom due to direct involvement from the CIA.
According to credible sources, the CIA officials themselves remained present to monitor the entire extrajudicial operation.
Reportedly, Americans had made every effort to arrest Safavi alive but he put stiff resistance. Hence, CIA-led operators failed in their planned mission.
FIR of extra judicial killing
Unfortunately, Joharabad police of Chakwal district refused to register the FIR of extra judicial murder.
The Sessions Judge also didn't do justice when approached. Lahore High Court ordered FIR's registration but the government challenged that in the Supreme Court.
Due to intrepid and incessant legal struggle of the leading Ulema and his companions, the Supreme of Pakistan also upheld the LHC verdict.
The apex court allowed registration of the FIR of the extra-Judicial assassination of great Shia martyr Ali Nasir Safavi.
Great Martyr Safavi
Ali Nasir was one of the real followers of Imam-e-Zamana (ajtf). He was a close aide of great martyr Dr Mohammad Ali Naqvi.
He spent his entire life for supremacy of Islam and struggled against aggressive imperialist meddling of US administration into internal affairs of Pakistan.
Safavi belongs to the District Jhang of Punjab. He also worked under leadership of Allama Arif Hussaini Al-Hussaini at a younger age.
Note: Shiite News request all the followers of Imam-e-Zaman (ajtf) to offer fateha for the departed soul of great martyr Ali Nasir Safavi and his great wife. They followed true path of Ahle Bait (AS).