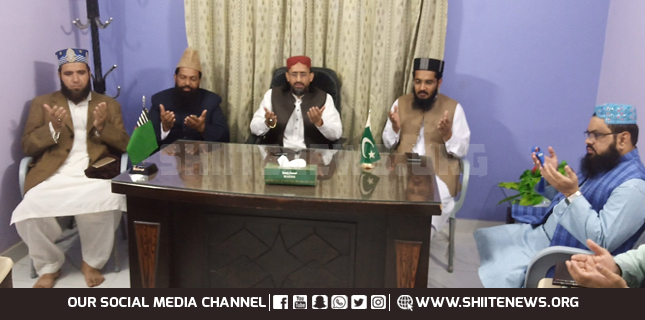 Muavia Azam meets outlawed Sipah Sahaba ringleaders in Karachi where notorious Aurangzeb Farooqui welcomed him.
Banned terror outfit Sipah Sahaba (ASWJ), mother wing of Lashkar Jhangvi uses a new name Rah-e-Haq Party to hoodwink people.
Muavia Azam meets outlawed Sipah Sahaba ringleaders
Farooqui and Rab Nawaz Hanafi lead the terrorist and violent extremist group or party in Karachi. M Ahmed Ludhianvi heads the outlawed (banned) terror group across the country.
However, Ludhianvi and Muavia Azam remain active in Punjab in particular.
Hence, people of Sindh have expressed grave concern over terror outfit's Muavia Azam's visit to Sindh province, including Karachi and Matli.
Specially, they expressed dismay that now the patrons of the terror group have helped through ensuring presence of Allama Qazi Ahmed Noorani during Muavia's meeting with Farooqui.
Allama Qazi belongs to the rival Brailvi sect and has remained affiliated with Brailvi JUP.
For quite some time, Saudi monarchy has been using some clerics as henchmen to impose its Wahhabism on Brailvis like they did with Deobandis.
Muavia and Farooqui belong to Deobandi (takfiri sect). However, Muavia and Farooqui's terror group also work as franchise of al-Qaida and Daesh – IS (ISIS).
However, majority of Brailvis and Sufi Sunnis have expressed disapproval of Allama Qazi Noorani's presence with outlawed Sipah Sahaba that had assassinated many Sunni leaders.
Despite ban of the notorious terror group, Election Commission had registered the outlawed group under that new name and allowed it to contest election.
Due to that anti-law registration, Muavia Azam and other ringleaders of the outlawed Sipah Sahaba -ASWJ-LeJ contested election. Under a covert deal, he was allowed to become Member Punjab Assembly.
His father Azam Tariq was also a notorious terror ringleader of outlawed Sipah Sahaba-LeJ. He too was patronized to become Member of Parliament.
Like father like son, both remained engaged in preaching ideology of hatred and bigotry and inciting people to violent extremism and terrorism.
Muavia Azam of outlawed Sipah Sahaba had earlier visited Matli to preach violent extremism in peaceful town of Sindh province's Badin district.
Why Muavia Azam visited Matli, it remains a known fact. His terror group's facilitators had been working there under patronage.
His visit aimed to embolden their position in Matli and that could destroy peace and fraternity in Matli and among its residents.
Peace-loving citizens have urged the power that be to eliminate the outlawed Sipah Sahaba in all its form.
They demanded the power that be to also ensure substantial ban in practice because nation witnessed a theoretical empty ban on the terror group so far.