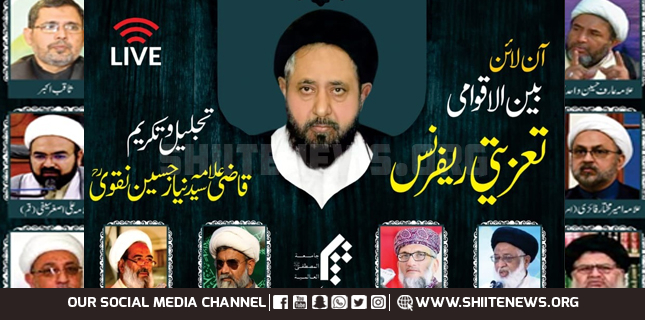 International condolence reference for Allama Qazi Niaz Hussain held virtually under the aegis of Jamiatul Mustafa al Alamia Pakistan.
Eminent scholars and clerics from nine countries spoke and praised veteran Shia Islamic scholar Allama Syed Qazi Hussain Naqvi.
International condolence reference for Allama Qazi Niaz
The event began with renowned Qari Wajahat Raza recited Quranic verses.
Dr M Ejaz Nagari read out the message Ayatollah Ali Reza Erafi (Iran), while Hujjatul Islam Mohsin Dad Sarisht Tehrani also spoke.
Eminent clerics Amir Mukhtar Faizi (USA), Mureed Hussain Naqvi (Denmark), Syed Irteza Atif Shirazi (Italy), Zakir Shigri (Sweden), Abid Raza Naqvi (Canada), Ali Asghar Saifi (Qom, Iran), Jafar A Anjum (UK) and Dr Sakhawat Sundralvi also lauded services of great scholar and Islamic judge.
Moreover, Ayatollah Hafiz Syed Riaz Hussain Najafi, Allama Sheikh Mohsin Ali Najafi, Allama Raja Nasir Abbas Jafari, Sahibzada Abul Khair Zubair, Allama Arif Wahidi, Saqib Akbar, Anis ul Hasnain Khan shared their views.
They shared their eyewitness accounts and shared moments with the late Allama Qazi Niaz.
Particularly, they highlighted how Allama Qazi Niaz grew up and how he remained position holder since childhood.
He strictly followed and adhered to Islamic laws and expert in those matters.
Allama Syed Niaz Hussain Naqvi was called Qazi because he had served as Islamic judge in Qom province.
In Pakistan, he rendered scholarly services and particularly played leading role in bringing Muslims closer to strengthen intra-Ummah unity.