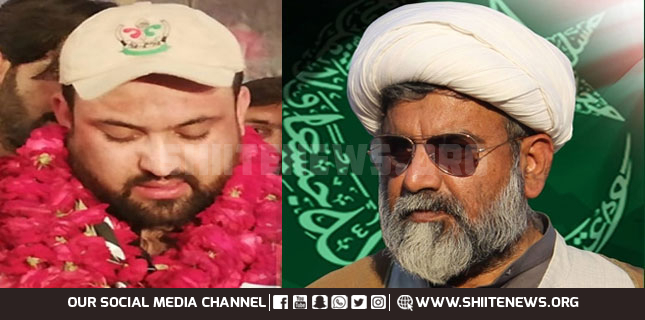 Allama Raja Nasir Abbas Jafari congratulates Arif Hussain Aljani on reelection as central president of Imamia Students Organisation (ISO) Pakistan.
Majlis-e-Wahdat-e-Muslimeen (MWM) Pakistan secretary general hailed the ISO as a training institution that purifies youth and make them pious to serve society.
Allama Raja Nasir Abbas Jafari congratulates
He expressed hope that after reelection the ISO CP Arif Hussain Aljani would lead the team ISO better as compared to his first tenure.
He further hoped that the CP Aljani would guide youth to the right direction which ISO.
MWM Pakistan leaders Allama Syed Ahmed Iqbal Rizvi, Nasir Abbas Shirazi and other leaders also expressed well wishes to reelected ISO CP.
Moreover, they wished him success during another tenure as ISO CP for the year 2021.
Earlier, Arif Hussain Aljani reelected as ISO Pakistan president at its central convention in Lahore.
Allama Syed Hasnain Gardezi administered oath to him.
According to Imamia Students Organisation's constitution, working committee and supervisory body held meetings first.
During the last session of the convention, electoral college members voted. Allama Gardezi announced results of the convention.
In November 2019, the ISO electoral college members had first elected Arif Hussain al Jani as the 48th president of ISO Pakistan.
While speaking after his election, Arif Hussain Aljani reaffirmed his allegiance to Islamic ideology with pledge to defend Pakistan.