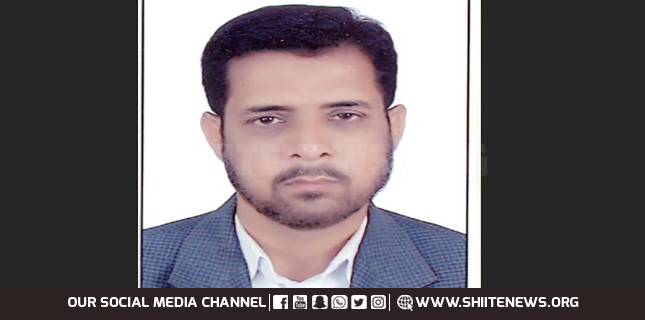 8th anniversary of Saeed Haider Zaidi martyrdom observed in Karachi to pay homage to the thinker and scholar.
Great martyr Saeed Haider educated youth as an expert on Islamic teachings and history.
8th anniversary of Saeed Haider Zaidi martyrdom observed
He remained staunch supporter of Islamic unity throughout his life. He had always expressed grave concern against all those who fanned sectarian tension.
Martyr Zaidi was a sworn opponent of the global imperialism, Zionism and the United States.
He quit Dar-us-Saqafah and founded Dar-us-Saqlain to spread the true message of Islam among youths.
Youths were captivated by his lectures on Islamic movements around the world.
Saeed Haider had proposed practical solutions to the problems which Muslims continue to face.
Dar us Saqlain published many books mainly translated books of great Muslim philosophers such as Ayatollah Morteza Motahri, Imam Khamenei, Ayatollah Hussain Fazlullah of Lebanon, etc.
He was author and co-author of many books and also edited numerous books.
Saeed Haider embraced martyrdom on 9th November 2012 outside a shopping centre in Karimabad area of Karachi's district central.
The terrorists shot him in front of his wife. People believe nasbi takfiri terrorists of banned terror outfit Lashkar-e-Jhangvi/Sipah-e-Sahaba (ASWJ) perpetrate Shia genocide in Pakistan.