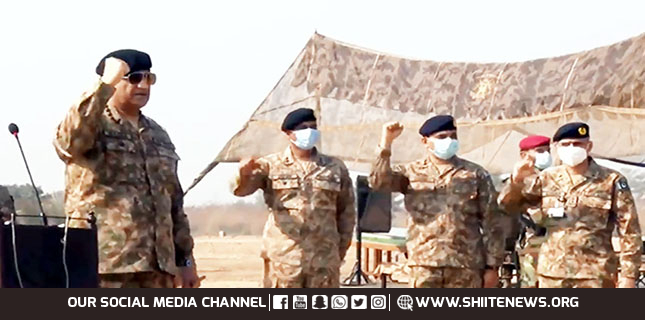 Army chief calls for efficient and smooth logistics to enhance capacity and the overall operational readiness.
Chief of the Army Staff General Qamar Javed Bajwa has said that efficient and smooth logistics will enhance the overall operational readiness and response capacity against the enemy's adventurism.
Army chief calls for efficient and smooth logistics
He said this during a visit of Logistic installations of Lahore Corps today (Saturday).
Chief of Logistic Staff Lieutenant General Azhar Saleh Abbasi, Quartermaster General Lieutenant General Aamir Abbasi and Commander 4 Corps Lieutenant General Majid Ehsan were also present on the occasion.
Meanwhile, Chief of Army the Staff (COAS) General Qamar Javed Bajwa Friday appreciated mountaineer Vanessa O'Brien's achievements.
Inter Services Public Relations director general said this in a tweet.
It said Army Chief thanked her for promoting Pakistan as a goodwill ambassador.
Vanessa O'Brien met with the COAS in Rawalpindi.
He said; "She is the only woman ever to climb to the world's highest point of Mount Everest and dive to the world's deepest point Challenger Deep, also carrying Pakistan's flag."
Army Chief says Pakistan Army will protect people along LoC – Line of Control.
Chief of Army Staff (COAS) General Qamar Javed Bajwa said this during his visit to Rawalpindi Corps Headquarters on Wednesday.
Earlier, Army Chief said that Pakistan Army would continue to ensure protection and security of people along the line of control (LoC).
Relevant personnel gave him comprehensive briefing on prevalent situation along LoC and operational preparedness of the formations.
According to an Inter Services Public Relations (ISPR) press release, the COAS appreciated resilience of Kashmiri population.