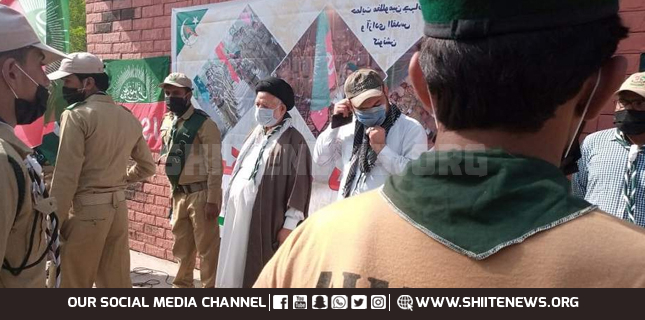 49th Convention of Imamia Students Organisation begins in Lahore with the parade of Imamia Scouts at grave of ISO Pakistan's founder Mohammad Ali Naqvi.
Imamia Scouts paraded, saluted, recited tarana and laid floral wreath at grave of great martyr Dr Mohammad Ali Naqvi.
49th Convention of Imamia Students Organisation
Member of supervisor body of ISO and an office bearer of MWM Pakistan Allama Shabbir Bukhari and ISO CP Arif Hussain Aljani spoke on the occasion.
Arif Hussain Aljani said the ISO took pride in its attachment with Imam Khomeini. He said great martyrs sacred blood remains in the root of the ISO.
He said that global imperialism remains engaged in conspiracies against Islamic world and whenever imperialism went against Pakistan, ISO countered their nefarious designs.
The ISO central president said that the ISO defended nation and national institutions, including armed forces, whenever enemies hatched machinations against them.
Moreover, he vowed that ISO would never deviate from its unwavering belief in guardianship of fully qualified Shia Islamic jurisprudent.
He said that enemies want to mislead youth against the said guardianship belief but ISO would not countenance nefarious designs of enemies succeed.
Meanwhile, the Imamia Scouts also saluted at the grave of Mehram Ali and laid floral wreath.
Participants recited surah Fateha at the graves of the great martyrs of Pakistan.