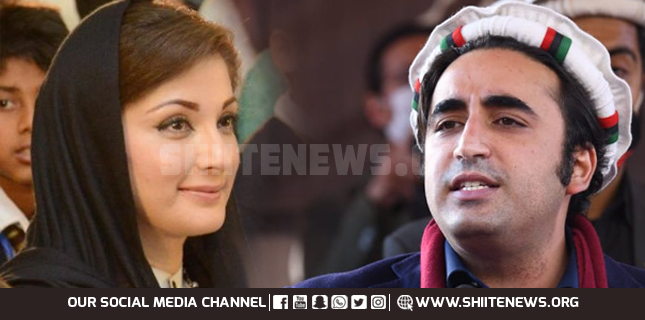 Bilawal and Maryam Nawaz use religious slogans to hoodwink people of Gilgit Baltistan during election campaign.
Maryam Nawaz and Bilawal Bhutto-Zardari have recently addressed public in Gilgit Baltistan where they went to run election campaign of PMLN and PPP, respectively.
Bilawal and Maryam Nawaz use religious slogans to hoodwink
Both the former ruling parties have a record to pursue a policy that targeted religious congregations of Shia Muslims during their parties' rule.
Ironically, now they try to deceive people raising Shia Islamic slogans in Gilgit Baltistan.
However, common man reminds these politicians their words don't match their actions.
Hence, people want them to prove their claim to follow Maula Ali Hyder-e-Karar Sher e Khuda truly.
GB people suggested Maryam Nawaz and Bilawal should not use sacred religious slogans for anti-Islam political gains.
Outlawed terrorist group contesting Gilgit Baltistan election under changed name, while ringleader Ludhianvi also reaches Gilgit to run campaign.
Banned terrorist outfit Sipah Sahaba, mother wing of Lashkar-e-Jhangvi uses names such as ASWJ and Rah-e-Haq Party to continue its activities.
Under the name of Rah-e-Haq Party, outlawed terrorist outfit Sipah Sahaba-LeJ (ASWJ) has fielded Himayatullah Khan in the GB election.
Notorious ringleader of the Deobandi takfiri terror group LeJ-Sipah Sahaba M Ahmed Ludhianvi has arrived in Gilgit to run his campaign. Allies of the takfiri ideology also misuses the name of Muttahida Deeni Mahaz.
However, Qazi Nisar of Tanzeem-e-Ahle Sunnat wal Jamaat (TASWJ) GB and Kohistan chapter is supporting Asif Usmani.
Notorious takfiri terror outfit's ringleader Ludhianvi is visiting Gilgit to patch up between two of its comrades.
More from Shiite News: