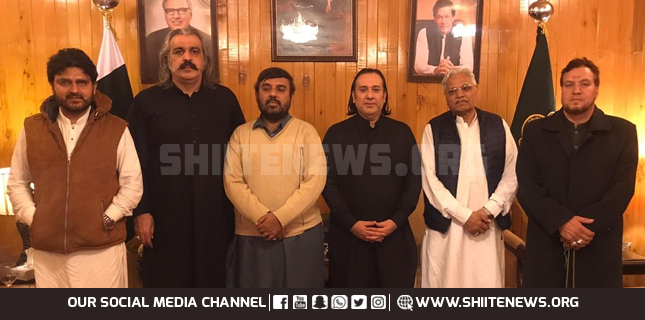 MWM delegation meets Governor Gilgit Baltistan and Minister Gandapur at Governor House.
Majlis-e-Wahdat-e-Muslimeen (MWM) deputy secretary general led MWM's delegation during meeting with GB Governor Raja Jalal Maqpoon and Federal Minister Ali Amin Gandapur.
MWM delegation meets Governor Gilgit Baltistan
PTI leaders and allied MWM's leaders discussed matters relating to forthcoming GB election and proposals for future set up.
Syed Asad Abbas Naqvi and Allama Ejaz Behishti accompanied Nasir Shirazi, while PTI deputy secretary general Arshad Dad assisted Gandapur and Raja Jalal.
Both parties have reached electoral adjustments in the GB election 2020.
Notably, Majlis-e-Wahdat-e-Muslimeen (MWM) had formed electoral alliance with PTI on the condition regarding Constitutional status to Gilgit Baltistan.
Prime Minister Imran Khan congratulated people of GB on the PTI government's decision to give GB provincial status.
He said the government of Pakistan made this decision, while keeping in view the UN Security Council (UNSC) resolutions.
He made this announcement, while addressing the Azadi Parade held to mark the 73rd Independence Day of Gilgit Baltistan on Sunday.
Hence, MWM supporters call it their success and vindication of their stance.