Pakistan
Shia doctor embraces martyrdom, 2 Shia policemen injured in ASWJ terrorist attack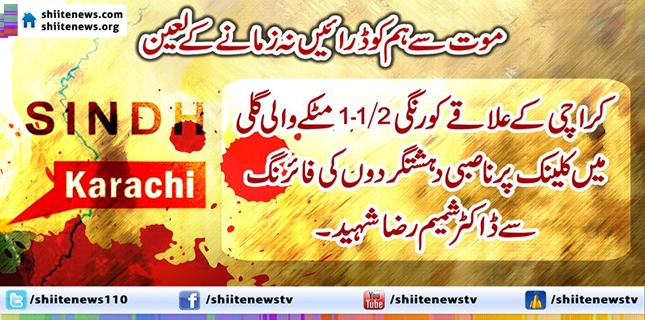 Notorious takfiri terrorists of proscribed ASWJ (Sipah-e-Sahaba or Lashkar-e-Jhangvi) shot martyred a Shia doctor and also injured 2 Shia police cops in 2 attacks in districts: central and Korangi respectively on Monday.
Takfiri terrorists stormed into the clinic of Dr. Shamim Raza son of Muslim Raza in Matkay Wali street in Korangi No.1 1/2. He embraced martyrdom due to targeted firing of the notorious takfiri terrorists who used different names such as Sipah-e-Sahaba, ASWJ or LeJ for genocide against Shia Muslims. Ahmed Ludhianvi and Malik Ishaq are infamous ringleaders of these takfiri terrorist outfits but the government doesn't take action against them. Their stooges assassinated a Shia computer shop owner in Korangi last week.
In District Central, two Shia police cops Ali Hassan, 38, son of Raza and Mir Hassan, 35, son of Ali were injured when ASWJ's takfiri terrorists opened fire upon them near Ayesha Manzil.
Shia parties and leaders have condemned the targeted attacks on Shiites under the organised genocide against Shia Muslims by aforesaid takfiri terrorists and their allied takfiri outfits across Pakistan. They said that without elimination of the takfiris, terrorism and fanaticism could never be defeated in Pakistan.