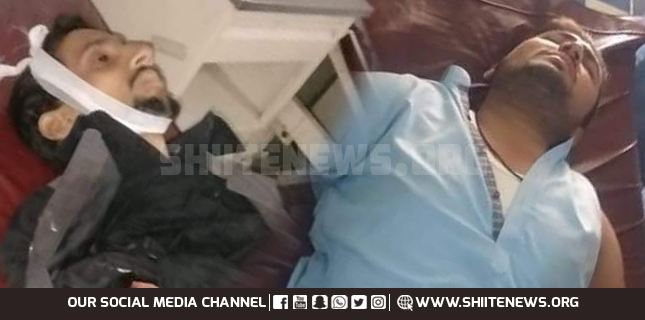 Shia Muslim martyred in terrorist attack in Dera Ismail Khan, while another sustained critical wounds.
Takfiri nasbi terrorists of outlawed Sipah Sahaba (ASWJ-Rah-e-Haq Party) targeted Shia Muslims at Gali Qureshan Wali near Ghas Mandi.
Shia Muslim martyred in terrorist attack
They opened fire at Safdar Abbas and Masjood Mehdi.
Resultantly, Safdar Abbas embraced martyrdom, while Masjood Mehdi has undergone treatment at hospital.
On the other hand, people believe terrorism and extremism in Pakistan cannot end due to Saudi monarchy's meddling.
On paper, Shia Muslim Mohammad Ali Jinnah is father of Pakistani nation and founder of Pakistan. But in practice, Saudi Wahhabi monarchy rules Pakistan.
Pakistanis also demand probe into activities of Saudi ambassador due to surge in hatemongering sectarianism and violent extremism.
Saudi ambassador had held meetings with clerics and after that the latter had launched hate campaign and also resorted to violent extremism and bigotry.
General public remains deeply shocked that Saudi Ambassador to Pakistan Nawaf Maliki's meetings with fanatic clerics resulted in violent extremism in Pakistan.
Saudi Arabia is trying to take revenge from Pakistani nation of its defeat in public diplomacy and PR campaign against Turkey, Malaysia, Qatar and Iran.
Pakistani nation detests Saudi Wahhabi monarchy due to its ferocious incivility against Islamic sanctities.
For instance, Pakistanis, Turks and Iranian consider tombs and shrines sign of reverence for saints but Saudi monarchy and their Wahhabi clerics have demolished tombs or shrines in Makkah and Madinah.
They perpetrated this blasphemy or sacrilege of Islamic sanctities.
Due to this Saudi Wahhabi ideology, allied Deobandi terrorists of Sipah Sahaba Lashkar Jhangvi (ASWJ) of Aurangzeb Farooqui and Mohammad Ahmed Ludhianvi also follow that ideology of hate.
In Pakistan, U.S.-allied Saudi Wahhabi monarchy has been funding terrorists since long. The terrorists have attacked churches and temples, let alone Islamic shrines, mosques and Imam Bargahs and Muslims.