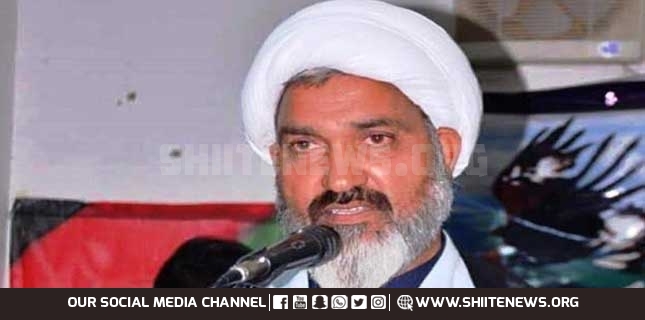 Allama Asadi asks Home Department why they allowed over 32 hate rallies in Punjab province.
Shia Islamic party leader said this, while reacting to Punjab Home Department's notification that disallows azadari mourning processions.
Allama Asadi asks Home Department why they allowed over 32 hate rallies
Majlis-e-Wahdat-e-Muslimeen (MWM) Punjab chapter secretary general Allama Abdul Khaliq Asadi rejected biased notification based on double standard.
He said that ban or restrictions on Arbaeen mourning (azadari) amounts to attack on religious freedoms of Shia Muslims.
He made it clear that Arbaeen mashi is not a new trend but it is travelling of azadars to participate in Arbaeen mourning processions.
Hence, he said objecting to or opposing walk to join Arbaeen mourning stand rejected.
Allama Asadi said that Shia mourners were walking to join Arbaeen mourning and they were carrying Pakistan national flags in addition to alam Pak.
He condemned Punjab police and home department for allowing hate rallies and banning peace rallies.
However, he made it clear azadars would not tolerate this illegal notification that violates Constitutionally-guaranteed rights of Shia Muslim citizens of Pakistan.
Meanwhile, Allama Raja Nasir underlines azadari as servitude, identity, guarantor of eternity.
MWM Pakistan leader said that Hussainiyat is a yardstick that separates righteous from wrongs (illegitimacy).
He said that let alone Islamic world, the entire humanity reveres Imam Hussain (AS)'s righteousness.