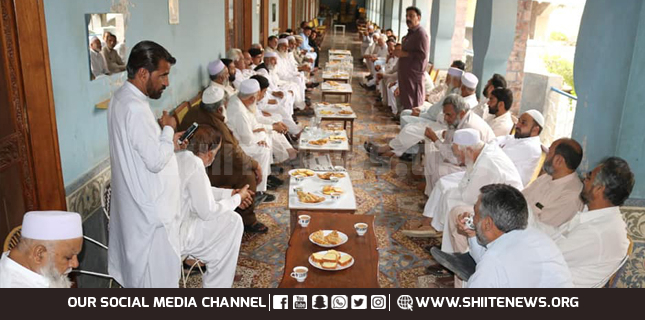 Sunni and Shia Muslim notables defeat conspiracy of takfiris in Kohat, Khyber Pakhtunkhwa where hatemongering violent extremists incited people to sectarian violence.
Earlier, terrorists had shot martyred three Shia Muslims at Kohat Chowk. Shia Muslims held a protest with demand for justice.
Sunni and Shia Muslim notables defeat conspiracy of takfiris
In the meantime, the terrorists tried to incite people by firing at a Sunni mosque. Next day, takfiris of outlawed terror groups came out on streets to incite people.
However, Sunni and Shia notables held a jirga on the issue. They unanimously owned three Shia martyrs as martyrs of all Muslims and Pakistan.
Furthermore, they unanimously condemned the targeted killing of Shia Muslims and unanimously demanded government to take action against terrorists/target killers.
Moreover, Sunni and Shia Muslim notables also condemned firing at Sunni mosque and demanded action against those who fired at mosque.
Meanwhile, they rejected sectarian hate campaign and malicious propaganda through social media.
They vowed to maintain Sunni-Shia unity on common points. They reiterated their unwavering faith in Khatam-e-Nabauwwat.
On the other hand, Wahdat Council also held a meeting after the jirga. The attendees discussed the overall situation in the background of global, regional and nation conditions.
They decided to continue intra-Pakistanis and intra-Muslims unity and interfaith harmony.
On the other hand, Sunni and Shia leaders vow to strengthen unity of Muslim Ummah.
They underlined intra-Ummah unity an essential need of current situation.
They made this pledge at Ittehad-e-Ummat Conference, held under the aegis of Jamaat-e-Ahle Haram Pakistan.
Mufti Gulzar Naeemi speaks as host and leader of Jamaat-e-Ahle Haram.
MWM Pakistan secretary general Allama Raja Nasir Abbas Jafari, Dr Raghib Naeemi, Muttahida Ahle Hadees leader Usama Bukhari, M Nafees Qadri, Allama Arif Wahidi, Mufti Abu Bakar Awan, Professor Zafar Iqbal, Dr Shams ur Rehman Shams, other clerics such as Sharif Hazarvi, Dr Muneer Ahmed, Mir Asif Akbar addressed the unity conference.
They rejected sectarianism as a conspiracy which the arrogant and imperialistic powers have designed to destroy unity of Ummah.