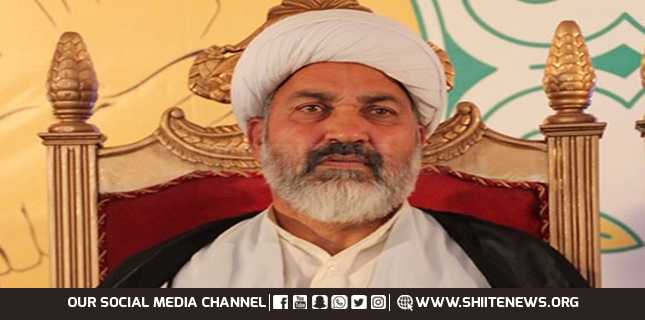 MWM asks DPO Mandi Bahauddin to ensure arrest of killers of Malik Alamdar Hussain whom terrorists had shot martyred on 24th Moharram.
Majlis-e-Wahdat-e-Muslimeen Punjab chapter secretary general Allama Abdul Khaliq Asadi made this demand.
MWM asks DPO Mandi Bahauddin to ensure arrest of killers
He urged District Police Officer (DPO) Mandi Bahauddin and other security agencies that they need to take action in this regard immediately.
He said they need to take heirs of the martyr Shia Muslim notable Malik Alamdar Hussain into confidence on the investigation.
Furthermore, Allama Abdul Khaliq said that police and security agencies played good role against other criminals but this particular case also need similar sort of attention.
He said that locals had lodged complaints and informed the administration on threats, repeatedly, since the beginning of Moharram.
Allama Abdul Khaliq Asadi that the criminal silence (negligence-inaction) of police resulted in assassination of MWM local leader Malik Alamdar Hussain in Belan area.
He asked if Shia Muslims are not citizens of Pakistan; then, why victims are being denied justice.
Moreover, he warned that Shia Muslims would have to come out to protest against these injustices.
Shia Muslims would not return homes without getting constitutionally-guaranteed fundamental rights, he warned.