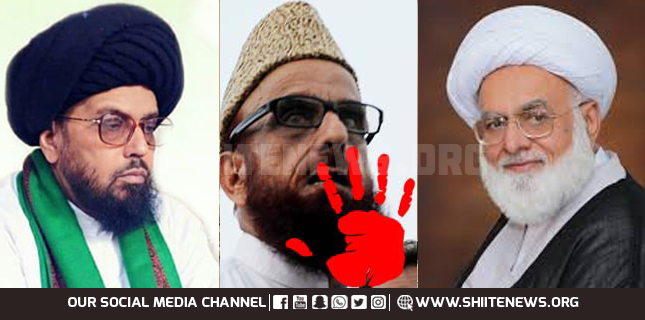 Senior members boycott moonsighting committee huddle due to controversial head Mufti Muneeb ur Rehman.
Mufti Muneeb has angered the entire Pakistani nation by joining outlawed takfiri nasbi terrorist sect of Sipah Sahaba ASWJ Lashkar Jhangvi thugs Mohammad Ahmed Ludhianvi and Aurangzeb Farooqui.
Senior members boycott moonsighting committee
The cleric Mufti Muneeb has become partial and biased hatemongering cleric and have made hate speeches.
His conversion to nasbi takfiri sect had hurt the entire nation, let alone any single sect.
Senior Islamic scholar Allama Mohammad Hussain Akbar from Punjab and Allama Syed Irshad Hussain Shah Naqvi from Sindh have boycotted the recent moon sighting committee meeting.
They have formally made public their demand to sack Mufti Muneeb as chairman Ruet-e-Hilal or moonsighting committee.
Military dictator Genera Pervez Musharraf had appointed Mufti Muneeb as chairman of the committee.
Critics say that the PTI government had already decided to sack him due to his controversial role.
Federal Minister Fawad Chaudhry also had spoken against Mufti Muneeb. People of Khyber Pakhtunkhwa, KP government's minister and clerics had also demanded his removal.
Citing these developments, independent analysts believe Mufti Muneeb have joined takfiri nasbi ideology in a bid to retain his grade-20 officer's perks.