Pakistan
Security analysts express concern over increasing sectarian tensions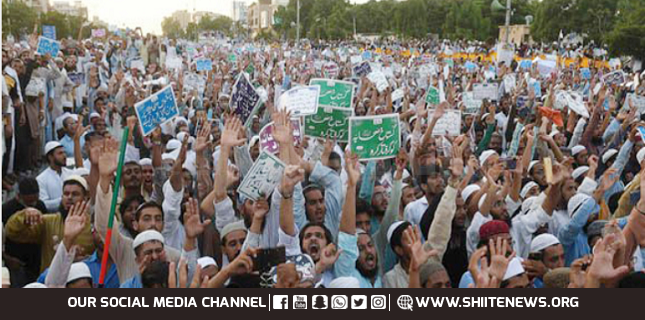 Security analysts and rights activists feel that the government's response to a widening cycle of inter-sectarian tensions in the country was disturbingly passive, despite the potential of the events to disturb internal security and social harmony.
They were speaking at a virtual dialogue hosted by the Islamabad Policy Institute (IPI) in the backdrop of growing sectarian frictions in the country. The participants of the dialogue looked into the causes of this trend in addition to its implications, and suggested ways for dealing with the aggravating situation, which all agreed was "deeply disturbing".
Secretary General Human Rights Commission of Pakistan Harris Khalique cautioned that the current wave of sectarianism could grow, and in the process rupture other fault lines as well. He urged the government not to treat it as a "political issue", but one of "urgent national importance". He said the increasingly acrimonious sectarian atmosphere could serve as a hotbed for radicalization and recruitment of extremists. Khalique, therefore, called for immediate steps to restore cohesion and inclusive pluralism in the society.
Former Chief National Coordinator National Counter Terrorism Authority (NACTA) Tariq Parvez discussed the evolution of sectarianism in the country, and noted that the situation had become dangerous. He warned that the events could take a turn for the worse, if the gravity of the situation was not immediately realized, and timely and effective measures were not taken. Parvez said the situation could not be dealt with through law enforcement and administrative measures. Rather, there needs to be a political will to confront sectarianism, which he regretted was currently not visible. He apprehended that sectarian parties' vote bank was preventing the mainstream parties from showing the much-needed political resolve for dealing with the problem.
Parvez said the federal government needed to take a lead on the issue because it was a federal matter, and not a provincial one. He also called for preventing the misuse of social media for promotion of sectarian hatred.
The former NACTA chief pointed out that the sectarian landscape of the country was undergoing a massive transformation with the entry of Barelvi groups into what was traditionally a Shia-Deobandi dispute and involvement of new groups.