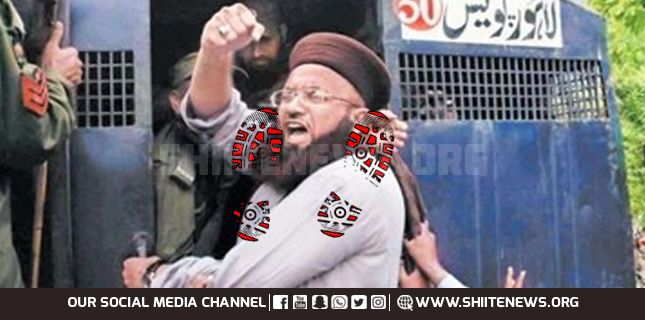 Court of law rejects bail plea of blasphemer Ashraf Asif Jalali who remain detained at Kot Lakhpat Jail in Lahore.
Model Town kutchehry (Magistrate) had already rejected his plea aimed at seeking bail in the case of blasphemy.
Court of law rejects bail plea of blasphemer Ashraf Asif Jalali
Now Sessions Court also rejected his application that sought bail.
Lawyers for Asif Jalali announced they would seek bail from Lahore High Court.
Shia lawyers said they would also challenge bail plea at LHC.
A judicial magistrate at Model Town Courts on Tuesday July 21, 2020 sent Tehreek-e-Labbaik chief Dr Asif Ashraf Jalali on judicial remand.
Tehreek Labbaik has a record of creating disorder and tension misusing religious issues as pretext. They falsely accused a Christian Asia Masih but the apex court of Pakistan acquitted her.
After that, Ashraf Asif Jalali and his Tehreek Labbaik had begun desecrating the sacred Ahle Bayt of Prophet Mohammad (PBUH).
On complaint of Allama Imtiaz Kazmi, Police booked him in a case relating to hate speech and objectionable remarks against Ahle Bayt (AS), the family members of Prophet Muhammad (peace be upon him).
The Samanabad police had registered an FIR against the cleric on June 18 under Sections 295-A (acts intended to outrage religious feeling) and 298-A (use of derogatory remarks in respect of holy personages) of the Pakistan Penal Code, and Section 13/16 of the Maintenance of Public Order ordinance.
Police arrested Ashraf Jalali for blasphemous remarks against Bibi Fatima Zahra, the beloved daughter of Hazrat Mohammad (PBUH).
The entire Pakistani nation mainly parliament, Sunni and Shia Islamic scholars and ordinary people had condemned the blasphemer Ashraf Asif Jalali.
Many people approached police and lodged cases against the blasphemer cleric.
However, some clerics had repeatedly urged Ashraf Jalali to apologise publicly and repent. But, his stubbornness on blasphemous remarks angered the entire nation.