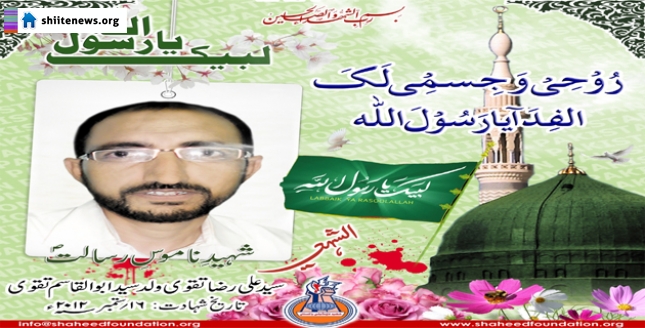 MWM leaders visit grave of Martyr Ali Raza Taqvi Shaheed-e-Namoos-e-Risalat (PBUH) on 8th anniversary of his martyrdom.
Majlis-e-Wahdat-e-Muslimeen delegation comprised of Allama Baqir Abbas Zaidi, Allama Mubashir Hassan, Malik Ghulam Abbas, Mir Taqi Zafar, Zain Raza and other office bearers.
MWM leaders visit grave of Martyr Ali Raza Taqvi
They offered Fateha and paid homage to great Martyr Syed Ali Raza Taqvi.
Allama Baqir Zaidi said that Shia Muslims never tolerated blasphemy in any form. He cited historic fatwa of Grand Ayatollah Khomeini of Iran against blasphemer Salman Rushdie when he authored Satanic Verses.
Furthermore, he said Raza Taqvi was the first Pakistani who sacrificed his life while defending Namoos-e-Risalat (sanctity of God's Last Apostle and Prophet Mohammad-PBUH).
First Pakistani Shaheed-e-Namoos-e-Risalat (PBUH)
Shia Muslim Syed Ali Raza Taqvi embraced martyrdom while defending sanctity of Hazrat Mohammad (PBUH), God's last apostle and Prophet of Islam and Humanity.
On Sunday September 16, 2012, thousands of fellow Shia Muslims were registering a peaceful protest against the sacrilegious U.S.-made movie.
Raza Taqvi was one of those who managed to reach the U.S. consulate in Karachi. He hoisted a flag inscribed with Labbaik Ya Rasoolullah (SAWW) at the main gate of the consulate.
Countless tear gas shells were fired at the peaceful protestors who staged a rally from Numaish Chowrangi to the U.S. Consulate.
The great martyr of Islam Raza Taqvi, 48, was father of five children. He was elder brother of Hujjat ul Islam Maulana Sadiq Raza Taqvi who was then an official of Majlis-e-Wahdat-e-Muslimeen and Palestine Foundation of Pakistan.