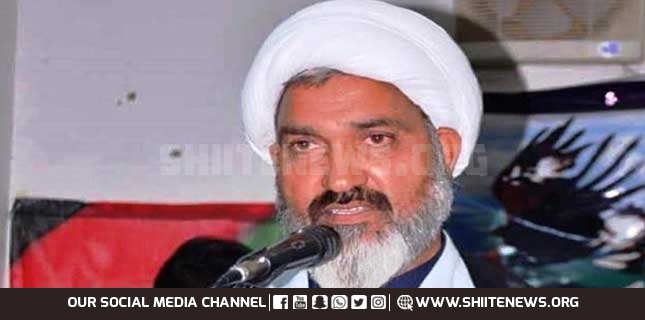 Allama Asadi warns security establishment of threat from takfiri terrorism which has resurfaced in Pakistan.
MWM leader made this alert, while talking to the media after attending funeral prayers of martyred Shia leader Malik Alamdar Hussain in Mandi Bahauddin.
Allama Asadi warns security establishment of threat
Allama Abdul Khaliq Asadi said that resurgence of sectarianism (takfirism) shows failure of security agencies.
He said that unrestrained takfiris of outlawed terrorist outfits could spoil the sacrifices of over 70 thousand martyred who sacrificed their lives while condemning terrorism.
Majlis-e-Wahdat-e-Muslimeen Punjab chapter secretary general said that first takfiri terrorists perpetrate genocide against Shia Muslims. And then, they target all others, including security forces and key installations.
He said that the power that be and the entire nation beware of consequences of inaction and silence against takfirism.
Furthermore, he demanded arrest of killers of Malik Alamdar Hussain forthwith.
Sipah Sahaba ASWJ terrorists has resumed Shia genocide in Punjab where they shot martyred license holder of 25h Moharram azadari procession in Mandi Bahauddin district.
On 24th Moharram 1442 A.H., Malik Alamdar Hussain embraced martyrdom in Heelan area of Mandi Bahauddin.
Deobandi nasbi takfiri terrorists of outlawed terror outfit Sipah Sahaba (ASWJ).
Analysts believe that the Deobandi thugs have resumed genocide against Shia Muslims in Pakistan.
Notorious outlawed Sipah Sahaba ASWJ thugs have turned Heelan into hell. Its thug Muavia Azam recently visited the area.
After that, Deobandi takfiri terrorists shot dead Shia Muslim Malik Alamdar Hussain.
The victim was going to mosque to offer Fajr prayers when the terrorists ambushed him.
He had led 25th Moharram azadari procession which Shia Muslims bring out to mark martyrdom anniversary of Hazrat Imam Ali Bin Hussain Zainul Abideen.
Deobandi sect in Pakistan had been trying to impose their ideology of bigotry and hatred. Followers of Deobandi sect have formed notorious terrorist outfits such as Lashkar Jhangvi Sipah Sahaba, Taliban Pakistan, et cetera, et cetera.
These Deobandi takfiri thugs also work as franchise of al-Qaida, Daesh and such like global terrorist groups in Pakistan.
They have bombed shrines of Sunni and Shia Islamic saints, Sunni and Shia mosques, worshippers and mourners. Deobandi takfiri terrorists had massacred schoolchildren at Army Public School Peshawar in 2014.