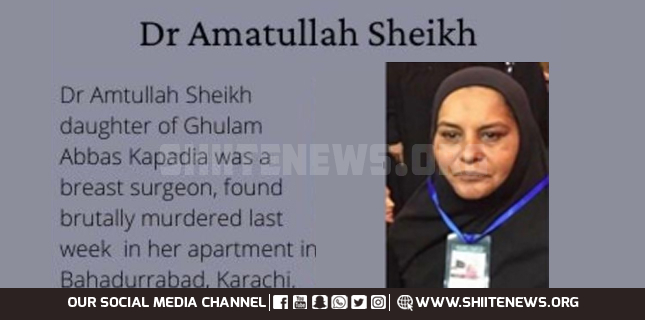 Shia Lady Surgeon Amatullah found murdered at her flat in Karachi where she was living alone.
Renowned female medical doctor Amatullah had also been serving Pakistan Arbaeen Missions. In that capacity she also had visited Karbala last year.
Shia Lady Surgeon Amatullah found murdered
She passed M.B.B.S from Sindh Medical Science in 1986. Later, she did FCPS and FRCS.
Dr Amatullah served humanity as general surgeon at various hospitals in Karachi.
Daughter of Ghulam Abbas Kapadia, Amatullah also remained affiliated with Imamia Medics International.
She had served pilgrims at the clinic at holy shrine of Hazrat Abbas Alamdar in Karbala in 2019.