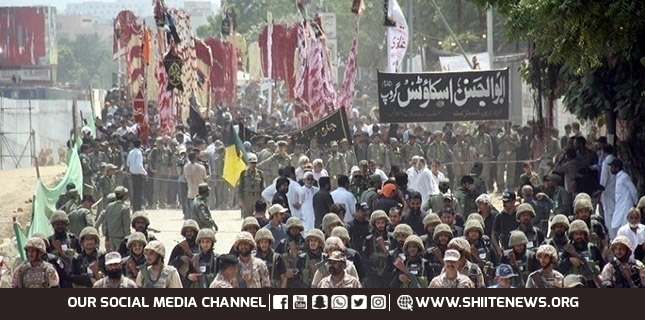 Millions of Shia Muslim mourners attend Ashura processions in Pakistan to pay homage to Imam Hussain-led great martyrs of Karbala.
Pakistan witnessed tens of thousands of Ashura Day mourning processions in almost all cities, towns and villages.
Millions of Shia Muslim mourners attend Ashura
On 10th Moharram Ashura Day, Shia Muslims observe Ashura to commemorate Imam Hussain-led Martyrs of Karbala across the world, including Pakistan.
They observe sacred mourning (called azadari) on 10th day of Moharram to condemn Umayyad despotic tyranny that massacred grandson of Prophet Mohammad (PBUH) in Karbala Iraq.
However, many Sunnis, Hindus and Christians also join Shia Islamic sacred mourning with solemnity and sanctity.
Some Ashura azadari processions reported in following cities and towns.
The primary processions in Rajanpur, Quetta, Narowal, Nawabshah, Dera Ghazi Khan, Muzaffargarh, Lodhran, Lahore, Mirpur, Mian Channu, Karachi, Rohri, Multan, and Hyderabad concluded at Imambargah Jafria, Punjabi Imambargah at Alamdar Road, Imambargah Gulistan-e-Zehra, Imambargah Murtazvi, Muqam-e-Karbala, Imambargah Imamiah, Railway Graveyard, Karbala Gamay Shah, Imambargah Bait-ul-Khizan, Shami Road, Hussainia Iranian Kharadar, Shuhada Graveyard, Imambargah Kashanaye Shabbir Lal Kurti, and Imambargah Karbala Dadanshah, respectively.
Those in Tando Muhammad Khan and Abbottabad also came to an end whereas the ones in Rawalpindi and Chichawatni were on their way to conclusion, as of reporting time.
Majalis were held across the country where ulema highlighted the philosophy of Karbala and pay tributes to the martyrs.
The day started with special prayers at mosques and imambargahs while all markets and business centres remained closed due to Ashura public holiday.
Azadari in Pakistan From Karachi to Peshawar
In Karachi, the main procession was taken out from Nishtar Park.
In Peshawar city alone, dozens of Ashura azadari processions were taken out.
Azadars largely participate in more than four dozen 44 small and big Ashura azadari processions in remembrance of sacrifice of Imam Hussain.
Shia Muslim mourners also take out sacred mourning procession Sibbi with the main procession from Hyderi Chowk.
Main Ashura procession in Hyderabad taken out from Qadamgah Maula Ali (AS) Imambargah and went through its traditional routes.
In Quetta, the main Ashura azadari procession taken out from Rehmatullah Chowk.
In Rawalpindi, the main procession was taken out 11am from Imambargah Ashiq Hussain.