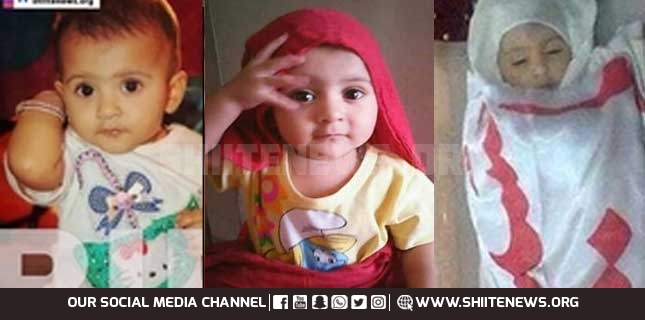 Martyrdom anniversary of the youngest Shia mourner baby held today as per Islamic lunar calendar.
The 9-month-old Shia Muslim baby Syeda Ghamsheera Batool embraced martyrdom in a hand grenade attack in Karachi on third Moharram 1438 A.H. (the years since hijrah-migration).
Martyrdom anniversary of the youngest Shia mourner
Takfiri Deobandi terrorists of outlawed Sipah-e-Sahaba (ASWJ/Lashkar-e-Jhangvi) had hurled a hand grenade at Islamic Research Institute premises during a Moharram mourning congregation.
Due to overcrowded premises, some Shia Muslim mourners were sitting outside wall of the main building.
Due to that terrorist grenade attack, 9-month-old Shia girl Ghamsheera (Gamshira) Batool embraced martyrdom on the lap of her mother.
The family was attending the Majlis-e-Aza (mourning congregation) at the Islamic Research Centre Imam Bargah near Ayesha Manzil.
Shia Muslims vowed that they would never forget their martyrs and continue to demand capital punishment for the terrorists.
Deobandi takfiri terrorists of outlawed Sipah Sahaba (ASWJ) and Lashkar-e-Jhangvi murdered them under Shia genocide campaign across Pakistan.
Molvi Mohammad Ahmed Ludhianvi leads the terror outfit Sipah Sahaba and Lashkar-e-Jhangvi using the cover name of ASWJ (Ahle Sunnat wal Jamaat).
He and his terror outfits (ASWJ-LeJ) enjoy full freedom to terrorism and hate-speeches. Ludhianvi-led terrorist Deobandi takfiri group publicly declare Shia Muslims as infidels.
Ludicrously, Pakistani nation revere Shia Muslim Mohammad Ali Jinnah as father of the nation since he led Pakistan Movement during British colonial raj in India.
Saudi Arabia's Wahhabi monarchy
Kingdom of Saudi Arabia's Wahhabi monarchy and their intolerant clerics patronize Ludhianvi group and host them at Saudi embassy in Islamabad.
Shia Muslims condemn United States for siding with Saudi-led anti-Shia pogrom and genocide against Shia Muslims in Pakistan.
Together, the U.S. and Saudi Wahhabi monarchy recruited, trained and funded sectarian hatemongering fanatics who continue to pose serious threat to the entire humanity, let alone Shia Muslims.
They have bombed shrines of Islamic saints, Shia Islamic mosques and Imam Bargahs, Christian churches and also attacked Hindu temples.
Pakistan remains a living example of U.S-led West's hypocrisy because Shia Muslims have fallen victims to their complicity with GCC Wahhabi monarchies.