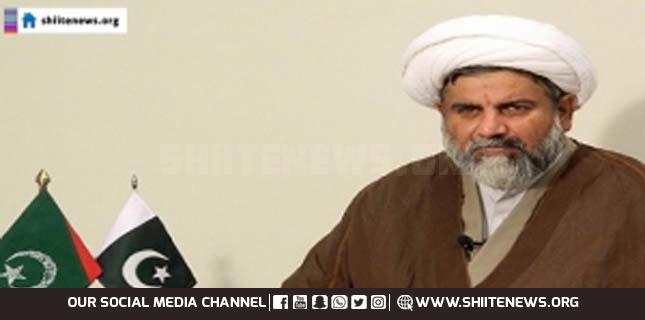 MWM countrywide protest against UAE recognition of Israel on Friday.
Majlis-e-Wahdat-e-Muslimeen (MWM) will observe Friday as a day of protest against the UAE decision to recognize and normalize relations with Israel.
MWM countrywide protest against UAE recognition of Israel
The MWM Pakistan secretary general Allama Raja Nasir Abbas Jafari made this announcement, while addressing a press conference in Karachi on Thursday.
He said pro-Palestine Pakistanis would take out rallies and hold demonstrations under the aegis of MWM on Friday.
He noted that Palestinians and the entire Islamic and Arab world condemned United Arab Emirates because the UAE ditched Arab and Muslim Ummah.
Allama Raja Nasir Abbas Jafari called UAE traitor of the legitimate Arab and Muslim cause.
He cited that founder of Pakistan Mohammad Ali Jinnah had rejected the idea of Jewish state on Arab majority Palestine.
Since then, Pakistanis continue to reject Zionist racist ideology because it was founded on racist political Zionism.
Meanwhile, Majlis-e-Wahdat-e-Muslimeen (MWM) Pakistan secretary general also spoke on Moharram azadari related matters.
Moharram azadari related matters
He called for foolproof security for Moharram mourning (azadari) processions.
He urged the government to ensure beefed up security through additional measures at entry and exit points. For that purpose, he proposed installation of additional walk through security gates and deployment of additional diligent security personnel.
MWM leader announced Wahdat Scouts would also work in coordination with the districts' administration.
He said the government also need to ensure cleanliness, uninterrupted power supply and adequate light arrangements for azadari congregations' venues and processions route.
He said that azadars (mourners) would act upon SOPs but nobody would be allowed to restrict Moharram azadari under any pretext.
Allama Raja Nasir Abbas Jafari said that Shia Muslims believe in intra-Muslim and interfaith unity.
He said Imam Hussain (AS) is a source of unity of oppressed humanity, let alone Muslims. Hence, he urged all to refrain from violating the sanctity of Moharram azadari.
He also rejected restrictions and ban on law-abiding peace-loving moderate Ulema and Zakireen during Moharram and called restrictions based on bias; hence discriminatory. He noted even Sunnis also revere such scholars.
The MWM SG urged the government to desist from pleasing takfiris of outlawed terror outfits. He said takfiris and their leaders enjoy freedom to spread mischief through hate materials during Moharram; so, national security agencies must prevent such elements from so doing.
MWM leader said Shia Muslims believe in peace and interfaith harmony, including intra-Muslim and inter sectarian harmony and tolerance besides rule of law. Therefor, Shia Muslims would continue to follow these golden principles.
Allama Baqir Zaidi, Allama Sadiq Jafari, Arif Zaidi, Zain Raza and others accompanied MWM Pakistan secretary general.