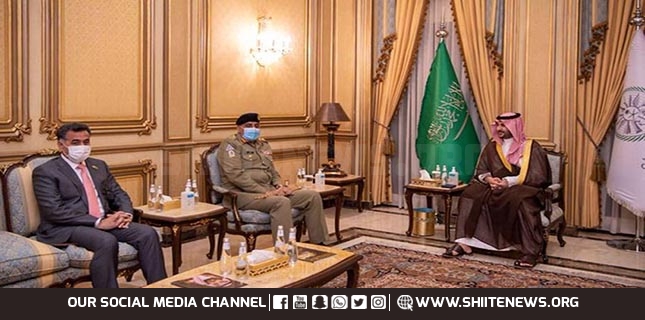 Pakistan Army Chief meets Saudi Deputy Minister of Defense to discuss regional security.
Later, Saudi Deputy Minister of Defense Prince Khalid Bin Salman Bin Abdulaziz also posted a tweet on his twitter handle.
Pakistan Army Chief meets Saudi Deputy Defence Minister
Although he called General Qamar Javed Bajwa as his brother, yet, critics noted neither Saudi King Salman nor Crown Prince MBS met with Pak Army chief.
However, KBS discussed matters of mutual interest including bilateral defense, security cooperation and regional security with Pakistan Army chief.
Earlier, Inter-Services Public Relations (ISPR) said Chief of the Army Staff (COAS) General Qamar Javed Bajwa on Monday met the Saudi military leadership.
Director-General Inter-Services Intelligence Lt Gen. Faiz Hameed also accompanied him.
Both sides discussed military to military ties including training exchanges.
Saudi Arabia's Chief of the General Staff of the Armed Forces General Fayyad Al-Ruwaili received him upon his arrival at the defence ministry.
Moreover, Pakistan Army Chief also held meeting with Lieutenant General (Staff) Fahad bin Turki Al Saud, Commander Joint Forces, Saudi Arabia.
They reviewed prospects for military cooperation and ways to support and boost it during the meeting.
Besides, they discussed others matters of common concern," the Saudi government said in a statement.
Chief of the Army Staff General Bajwa had arrived in the kingdom earlier in the day on his official visit.
Earlier, DG ISPR Maj Gen Babar Iftikhar had confirmed to Reuters that the army chief was travelling to Saudi Arabia.
He said that the visit was pre-planned and "primarily military affairs oriented."
However, Foreign Minister's August 05 interview ARY anchor person Kashi Abbasi angered Saudi monarchy.
Saudi officials made public their dislike and also conveyed their protest behind the scene.