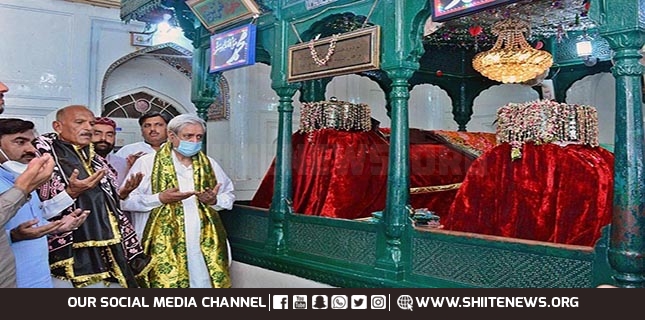 Minister Fakhar Imam visits shrine of Shah Shams Tabrez in Multan to pay homage to the great Shia Islamic saint.
During his visit to shrine of Hazrat Shah Shams Tabrez, Federal Minister for Food Security and Research Syed Fakhar Imam also shared his views.
Minister Fakhar Imam visits shrine of Shah Shams Tabrez
He said that saints performed vital role in promotion of teachings of Islam in sub-continent.
Furthermore, he noted people are also seeking guidance from them today since their teachings continue to remain source of inspiration.
He paid rich tribute to Hazrat Shah Shams Tabrez and stated that he gave message of hope, love and peace.
On this occasion, tomb's caretaker Makhdoom Tariq Abbas Shamsi, Syed Ahmed Ali Shamsi and President Young Pakistanis Organization Naeem Iqbal Naeem were also present.
Meanwhile, President Dr Arif Alvi urged Ulema to play their role in sensitizing the people regarding mother and child health.
He was talking to a delegation of Ulema at the Governor House in Karachi. Mufti Muneeb-ur-Rahman led delegation called on him.
Maulana Rehan Amjad Nomani, Mufti Nazir Jan, Maulana Sabir Noorani and Mufti Abid Mubarak accompanied him.
The president also urged them to educate people about women's inheritance rights according to the injunctions of Islam.
The delegation appreciated the role of the president and the government for creating inter-sects and inter-faith harmony and for taking Ulema on board on all matters of importance especially during COVID-19.
They expressed their gratitude for opening the mosques during Ramazan with standard operating procedures (SOPs.).