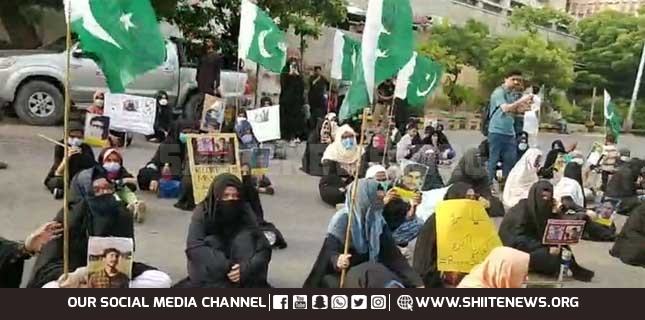 Families of Shia missing persons hold sit in outside Governor House in Karachi today (Sunday).
Protesters had earlier gathered at Karachi Press Club to hold a demonstration under the aegis of Joint Action Committee for Shia Missing Persons.
Later, they marched t Governor and successfully reached there.
Allama Mubashir Hassan, Allama Aqeel Sadiqi and Allama Sadiq Taqvi also attended the protest.
Children, youngsters and women of the missing Shias participated in the protest.
They raised slogans and demanded immediate release of their near and dear ones.
Latest reports had it that Federal Minister Ali Zaidi had reached the spot and began holding talks with the protesters.
two more Shia youth subjected to enforced disappearance in Karachi and third one in Punjab ahead of Eidul Azha.
Perpetrators of this unlawful and anti-Constitution act have not produced Fazal Abbas and Hasnain Raza in any court of law.
That showed their disrespect for rule of law.
One Shia youth from Karachi was accompanying with another Shia friend from Punjab when cops took them into custody.
Recently, the perpetrators also subjected Shia youth Kashif Abbas to enforced disappearance after taking him into illegal custody.
The cops in plain clothes stormed into the house of Fazal Abbas who belongs to Bhakkar district.
Violating sanctity of chador and char divari (privacy), they scaled the wall of the house.
The cops dragged Shia youth Fazal Abbas and didn't inform the family why they were taking him away.
On the other hand, Joint Action Committee for Shia Missing Persons said Pakistani Shia Muslims believe in rule of law while law of Pakistan recognizes freedom and other fundamental human rights of all Pakistanis.
Hence, Shia Muslims support rule of law and under that demand immediate release of missing Shias.