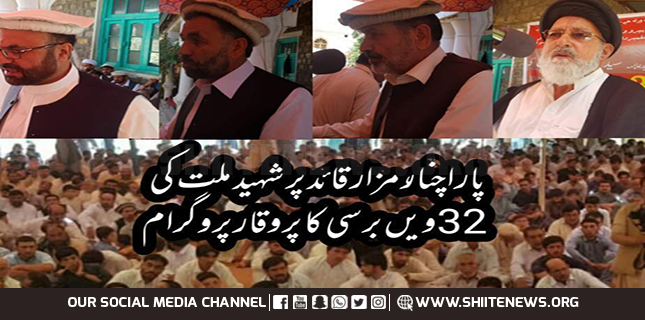 Allama Arif Hussaini martyrdom anniversary observed at his shrine in Pewaarh (Parachinar), Kurrum.
Thousands of people, including clerics and scholars and notables attended the main event.
Allama Arif Hussaini martyrdom anniversary observed
Tehreek-e-Hussaini leader Allama Abid Hussain al Hussaini, Molana Abid Hussain Jafari, Molana Yousuf Jafari, Secretary Anjuman Hussainia Haji Sardar, ISO DP Saqlain Abbas, Masjli-e-Ulema president Allama S Mohammad Hussain Tahiri and Molana Kausar Abbas spoke on the occasion.
They demanded capital punishment to all those involved in assassination of Allama Arif Hussaini.
Shia Islamic scholars and notables further said that the mastermind, perpetrators and facilitators were identified.
They demanded government to make public the details of the plot why they assassinated Allama Arif Hussain?
Moreover, they also condemned India for atrocities in disputed Kashmir (IOJK).
Tehreek Hussaini leader also slammed the government of Pakistan for discriminatory policy against Zaireen (pilgrims) of holy shrines of Imam Reza in Iran and other Imams shrines in Iraq and shrine of Bibi Zainab (Syria).
They rejected government's unfair Zaireen Policy and demanded government must ensure legitimate rights of 70 million Pakistani Shia Muslims.
They also demanded peaceful settlement of Balishkhel land issue.
Allama Arif Hussaini
Mainstream Shia Islamic claim to follow Allama Hussaini because he gave a clear course of action to oppressed Shia Muslims of Pakistan.
He became the architect of modern mode of Shia political struggle in Pakistan.
But he was not the first Shia Islamic leader.
He succeeded veteran pious Shia Islamic leader and scholar Ayatollah Mufti Jafar Hussain.
Prior to that, Syed Mohammad Dehlvi also led rights struggle for the legitimate Shia Islamic rights.
Finally, enemies got him assassinated on August 05, 1988.