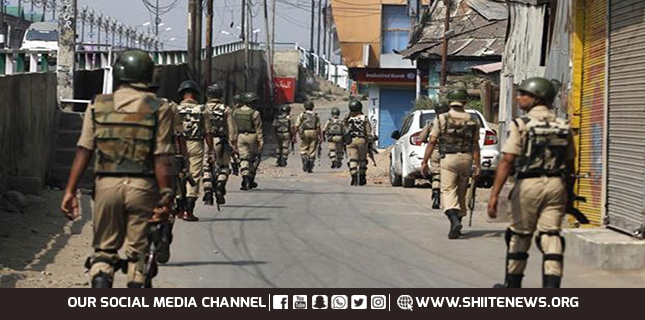 Pakistanis will observe Youm e Istehsal for solidarity with Kashmiris on Wednesday.
However, after offering Eid prayers Foreign Minister Shah Mahmood Qureshi shared his views on current situation.
Pakistanis will observe Youm e Istehsal
While talking to the media in Multan, he said Pakistani nation would give a clear message to oppressed people in Indian Illegally occupied Jammu and Kashmir that they are not alone.
Besides, he the FM vowed Pakistan will give a befitting response to any Indian misadventure along the Line of Control.
Furthermore, he said Modi-led fascist government in India is preparing to begin construction work on Ram Mandar in Ayodhya.
He said Pakistan condemns this act.
On the other hand, in Pakistan believe that Saudi Arabia, UAE and Bahrain have guaranteed their all out support to India if India breaks off relations with Iran.
Ludicrously, Pakistan claims that GCC countries are supporting Pakistan on Kashmir issue but Saudi Arabia, UAE and Bahrain have honoured Indian Prime Minister Narendra Modi with their highest national wards.
And Indian PM Modi received these highest UAE and Bahrain national awards on August 24 and 25, 2019 after making disputed Kashmir as integral part of India.
Saudi King Salman gave Indian PM Narendra Modi the highest Saudi King Abdul Aziz Award on April03, 2016.
Despite that, retired army chief of Pakistan General Raheel Shairf became Saudi employee in Saudi-led military alliance in 2017 while Saudi-led coalition is bombing Yemen.
Ironically, UAE Minister for Foreign Affairs and International Cooperation Sheikh Abdullah Bin Zayed Bin Sultan Al Nahyan had said that Pakistan and India should not make the Indian Held Kashmir (IHK) an issue of the Muslim Ummah. He called it a dispute between the two countries.
Even retired army chief Raheel Sharif has not quit his Saudi employment and continue to serve Saudi-led divisive group.