Pakistan
Shia deputy speaker of Sindh assembly gets threat letter from takfiri terrorists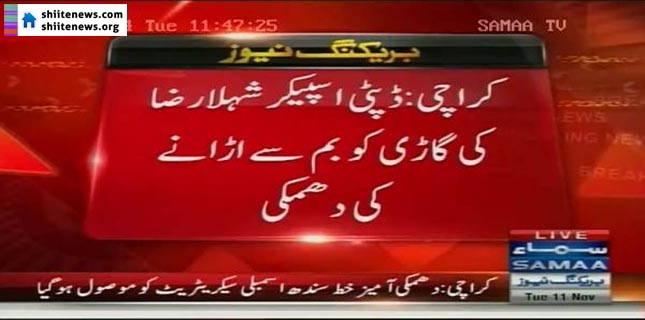 Shia Deputy Speaker Sindh Assembly, Shehla Raza, on Tuesday received a letter threatening to blow up her car with a bomb. Taliban, Sipah-e-Sahaba (ASWJ and LeJ), al-Qaeda, DAESH (ISIL or ISIS) and their offshoots are those takfiri terrorist outfits who continued genocide against Shia Muslims alongside carnage of Sunnis and non-Muslim minorities in the Muslim world.
The threat letter, sent to Sindh Assembly Secretariat by mail, was sent by the takfiri terrorist group. The threat prompted Shehla Raza, a Shia leader of Pakistan People Party, to request Sindh home ministry for provision of a bomb-proof vehicle.
In the wake of terrorist threats, sources said, the ministry has written a letter to Rangers, seeking more security measures for the Shia Deputy Speaker.
Sources said the letter also comprises names of MQM's Shia leader Haider Abbas Rizvi, Shia scholars namely Allama Abbas Kumeli and Allama Mirza Yousuf and Shia leader of the PPP former Senator Faisal Raza Abidi.