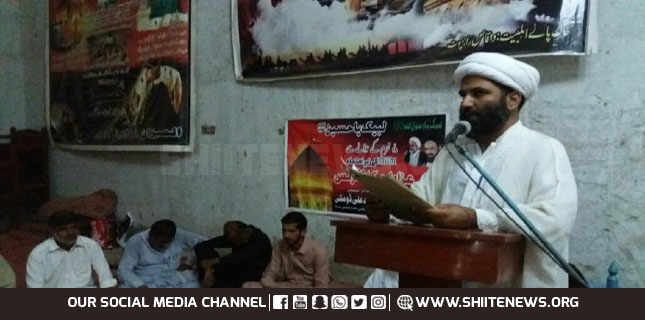 Allama Maqsood Domki meets Balochistan Home Secretary to discuss Moharram related matters, including needed arrangements.
Majlis-e-Wahdat-e-Muslimeen (MWM) azadari council vice chairman Allama Domki led the council's delegation during the meeting.
Allama Maqsood Domki meets
The MWM Balochistan chapter leader Allama Wilayat Hussain Jafari also accompanied him.
Allama Maqsood Ali Domki-led delegation shared their views with Additional Chief Secretary Home Balochistan Hafiz Abdul Basit.
They proposed holding of meetings regularly on time to remain updated on the latest situation.
Specially, they expressed reservations over some issues relating to azadari in Naseerabad Division of the province.
Meanwhile, the addl CS (Home) assured them of holding regular and timely meetings.
He termed government-people contact important for maintenance of peace.
Earlier, MWM azadari council vowed no tolerance for unconstitutional restrictions on azadari or sacred mourning rituals on the anniversaries of martyrdoms of Imam Hussain and his companions and of other Imams.
The azadari council of Majlis-e-Wahdat-e-Muslimeen made this pledge during a meeting held through video-link.
Mali Iqrar who heads the council presided over the meeting. Deputy Chairman Allama Maqsood Ali Domki and members from all over the country also participated.
The MWM's Central deputy secretary general Nasir Abbas Shirazi also spoke. He briefed participants on overall situation, including the latest situation in Kurrum (Parachinar).
Azadari council of the MWM decided to hold regular meetings after every 10 days.
They also decided to work on self-help basis while coordinating with the authorities concerned.