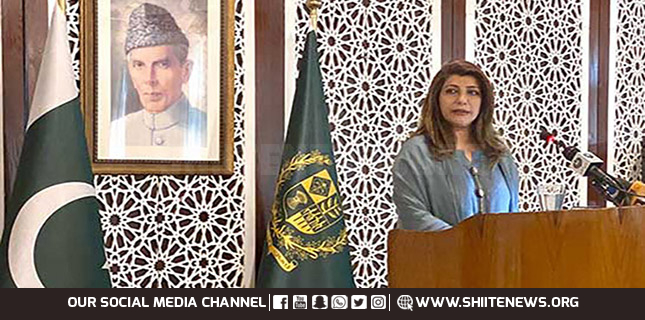 Pakistan thanks Iran for support and solidarity against terrorism in the wake of terror attack at PSX building in Karachi.
The spokesperson for the Foreign Office Aisha Farooqui extended gratitude to Iran and a number of ambassadors, foreign embassies and foreign ministries of different countries.
Pakistan thanks Iran for support
She took to her twitter account to thank Iran and other countries.
Iran had expressed solidarity with the government and people of Pakistan over a terrorist attack on Pakistan Stock Exchange (PSX) in Karachi.
Aisha Farooqui said: We thank the Govt and our brothers and sisters in
for their support and solidarity on #terroristattack at #PakistanStockExchange yesterday.
Zindabad
She posted aforesaid tweet.
The FO spokesperson retweeted the tweet of Iran ambassador to Pakistan Syed Mohammad Ali Hosseini.
Tehran-based spokesman for ministry of foreign affairs of Iran also condemned the terror attack at PSX.
Seyed Abbas Mousavi on Tuesday condemned a terrorist attack on Pakistan's stock exchange in Karachi. That left a police officer and other citizens dead.
He said only way to combat the cause of terrorism is cooperation and convergence in the region.