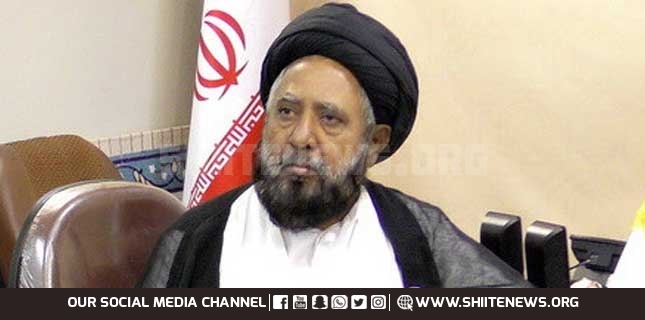 Allama Qazi Niaz asks govt to unmask local facilitators of terrorists and real motives behind terrorist attack at Pakistan Stock Exchange (PSX) building.
Veteran Shia Islamic scholar Allama Qazi Niaz Hussain Naqvi condemned the terror attack on PSX building in Karachi.
Allama Qazi Niaz asks govt to unmask
He said terrorists attacked economic jugular vein of Pakistan and that must not go unpunished.
Meanwhile, he cited clues led to Indian RAW involvement in terrorism inside Pakistan. But he reminded the government that they failed to take due action against local agents of India and their facilitators.
Therefore, he demanded stern action against those local agents and facilitators.
Four terrorists killed in gunfight with Pakistan Rangers and Police who foiled their attack on the building of PSX.
Earlier, five persons including a police officer and security guards also embraced martyrdom.
Many others including a police officer were injured.
Police and Rangers cordoned off the area and the injured are being shifted to nearby hospitals.
They also seized huge cache of arms and ammunition from the terrorist car found near Pakistan Stock Exchange building.
Meanwhile, veteran Shia Islamic political party leader Allama Syed Sajid Ali Naqvi and MWM leader Allama Baqir Zaidi also condemned attack at PSX.