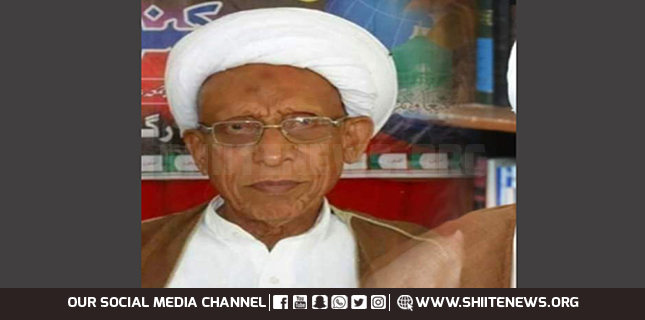 Veteran Shia Islamic scholar Allama Ghulam Qambar Kareemi passes away in Bhit Shah (Sindh).
He had been ailing for quite some time. Thousands of people attended his funeral in Bhit Shah.
Veteran Shia Islamic scholar Allama Ghulam Qambar Kareemi
One of the most senior Islamic scholars, Allama Ghulam Qambar Kareemi last served Madressa Khatam-un-Nabiyeen Bhit Shah.
has remained a source of learning for learners throughout his life.
Let alone seminaries pupils, university students also revere him because they too got enlightened through his thought provoking lectures.
Youth and elderly people respect him as a noble and pious scholar.
He served Islamic seminaries as leading office bearer of the concerned organisation and also as principal and pedagogue.
Finally, he welcomed the final call from God to leave this temporal world for the blessed life in eternity.
Allama Sajid Naqvi, Allama Haider Ali Javadi, Allama Raja Nasir Abbas Jafari, Asgharia Ilm-O-Amal (AIAT), ASO and other organisations have expressed profound grief over passing away of Allama Kareemi.
They prayed God Almighty rest Allama Ghulam Qambar Kareemi in eternal peace.