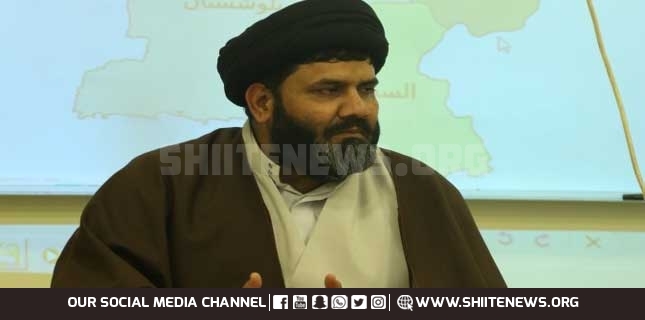 Allama Shafqat Shirazi underlines help to Kashmiris obligatory on Pakistan government and the nation.
Majlis-e-Wahdat-e-Muslimeen (MWM) Pakistan's secretary for foreign affairs noted Kashmir as an Islamic and international issue.
Allama Shafqat Shirazi underlines help to Kashmiris
He said founder of Pakistan Mohammad Ali Jinnah had declared Kashmir jugular vein of Pakistan.
Hence, he said that on one hand, we have Islamic affiliation with Kashmiris and on the other we also see this issue as per Quaid-e-Azam's declaration.
MWM leader Allama Shafqat argued that nobody allows anyone to harm his jugular vein.
He said that world knows factual position of Kashmir issue based on international law which identifies Kashmir a disputed territory.
While referring to that fact, he rejected Indian narrative on Kashmir issue claiming Kashmiri situation as its internal matter.
Meanwhile, Pakistan summoned senior Indian diplomat to protest over LoC violations
In a statement, Foreign Office said they summoned a senior Indian diplomat and registered Pakistan's strong protest over ceasefire violations by India along the Line of Control.
Meanwhile, Pakistan Army chief called for strengthening of all state institutions in his address to the War Course participants at NDU Islamabad.
Chief of the Army Staff (COAS) General Qamar Javed Bajwa Thursday visited National Defence University (NDU).
He addressed the participants of the National Security and War Course.