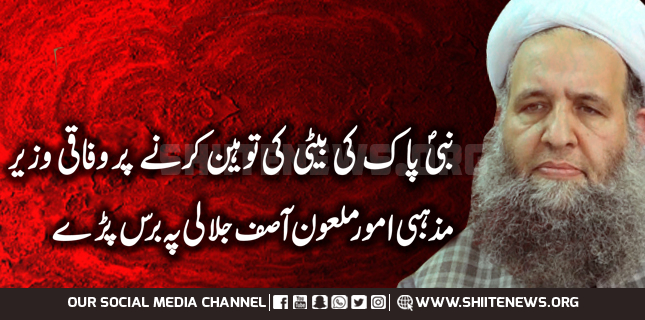 Minister for religious affairs condemn blasphemer Ashraf Jalali who used blasphemous remarks in violation of sanctity of Bibi Fatima Zahra (AS).
Pir Noorul Haq Qadri called such blasphemer worse than the illiterate.
Minister for religious affairs condemn blasphemer
He said he considers such blasphemer not a Muslim, let alone a scholar (cleric).
Federal Minister Pir Noorul Haq Qadri expressed these views while addressing a meeting held under the aegis of his ministry.
He condemned the blasphemer Ashraf Jalali.
The minister underlined it obligatory to revere the sacred Ahle Bayt of Prophet Hazrat Mohammad (PBUH).
He vowed that we offer our lives to sacrifice for the sake of Prophet Hazrat Mohammad (PBUH) and his progeny.
Meanwhile, Pir Aminul Hasanat also spoke.
He asked the minister to play his due role in ensuring stern action against such blasphemers.
Earlier, a Sunni religio-political party leader said that God curse upon Ashraf Jalali as per Quran Surah Ahzab verse 57.
While presiding over meeting of JUP-Niazi Pir Syed Masoom Shah referred to Quran's Surah Ahzab (The Combined Forces).
Surah Ahzab's verse 57 states: "Indeed, those who annoy Allah and His Messenger – Allah has cursed them in this world and the Hereafter and prepared for them a humiliating punishment."
The JUP leader further said that Ashraf Jalali has hurt Hazrat Mohammad (PBUH), the last apostle of God and Prophet of Islam and Humanity.
He said that God clearly stated in Surah Ahzab's verse 33 (Ayat-e-Tatheer) that (God) Allah only desires to keep away the uncleanness from you, O people of the House (Ahle Bayt) and to purify you a thorough purifying.
Pir Masoom Shah reminded Ashraf Jalali of the sacred and distinguished divine status of Bibi Fatima Zahra as Lady of Heavens and under Ayat Tatheer.
He also referred to the saying of the Prophet Hazrat Mohammad about Bibi Fatima Zahra that he called her his part.