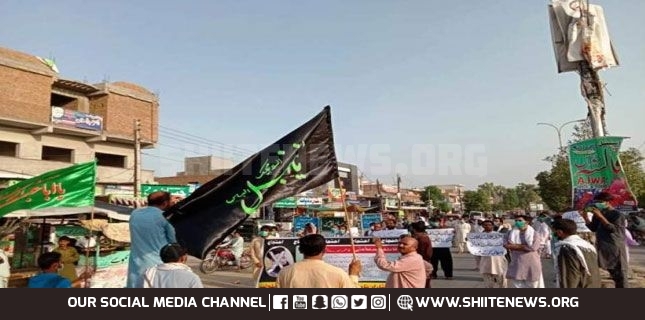 Shia parties hold protest demo in Layyah against blasphemer Ashraf Jalali who has perpetrated blasphemy through his profane remarks against infallible Bibi Fatima Zahra (AS).
Supporters of Majlis-e-Wahdat-e-Muslimeen, Imamia Students Organisation and Shia Ulema Council participated in the protest demo.
Shia parties hold protest demo in Layyah
In accordance with SOPs regarding Coronavirus, they strictly maintained social distance during demonstration.
While carrying banners and placards, they also raised slogans against the blasphemy.
MWM's Allama Rizwan Jafari, SUC's Nayyar Abbas Kazmi and Irfan Naqvi advocate spoke at the protest.
They said they held a token protest and if the government fails to punish the blasphemer, they would bring out mammoth rallies.
Ashraf Jalali belongs to Tehreek Labbaik (TLP), a violent extremist outfit whom fanatic clerics Molvi Khadim and Ashraf Asif Jalali lead.
Cleric Ashraf Asif Jalali of has publicly perpetrated an unpardonable sin denying the God's guarantee regarding infallibility of Ahle Bayt of the Prophet Hazrat Mohammad (PBUH).
In the Ayat Tatheer (33:33) of the Holy Quran, God guaranteed purity (infallibility) of Ahle Bayt, including Bibi Fatima Zahra.
God also declared the matchless legitimacy of infallibility of Ahle Bayt when it came to invocation of God's curse against liars.
Together with the Prophet Mohammad (PBUH), his beloved daughter of Bibi Fatima Zahra, her husband Amirul Maumineen Maula Ali, ger sons Imam Hassan and Imam Hussain (AS) remain integral part of Ahle Bayt (AS).
Following the Quran and Sunnah, Sunni and Shia Muslims adore and revere Ahle Bayt.