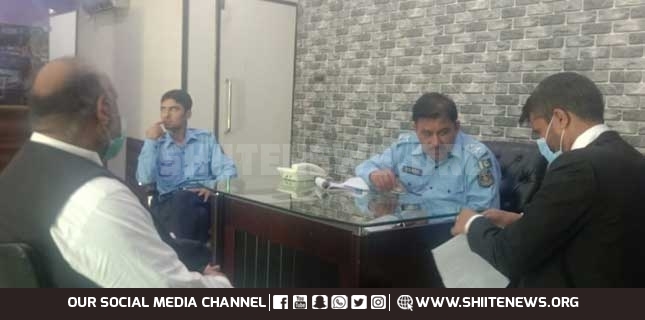 MWM leader seeks FIR registration against Ashraf Jalali over blasphemy against Bibi Fatima Zahra, beloved daughter of Prophet Hazrat Mohamma (PBUH).
In this regard, Majlis-e-Wahdat-e-Muslimeen leader Malik Iqrar filed an application with the office of Senior Superintendent of Police (SSP) Islamabad.
MWM leader seeks FIR registration against Ashraf Jalali
He formally requested ICT police to register case of blasphemy against Tehreek Labbaik (TLP) leader Ashraf Asif Jalali.
Ashraf Jalali belongs to Tehreek Labbaik (TLP), a violent extremist outfit whom fanatic clerics Molvi Khadim and Ashraf Asif Jalali lead.
Cleric Ashraf Asif Jalali of has publicly perpetrated an unpardonable sin denying the God's guarantee regarding infallibility of Ahle Bayt of the Prophet Hazrat Mohammad (PBUH).
In the Ayat Tatheer (33:33) of the Holy Quran, God guaranteed purity (infallibility) of Ahle Bayt, including Bibi Fatima Zahra.
God also declared the matchless legitimacy of infallibility of Ahle Bayt when it came to invocation of God's curse against liars.
Together with the Prophet Mohammad (PBUH), his beloved daughter of Bibi Fatima Zahra, her husband Amirul Maumineen Maula Ali, ger sons Imam Hassan and Imam Hussain (AS) remain integral part of Ahle Bayt (AS).
Following the Quran and Sunnah, Sunni and Shia Muslims adore and revere Ahle Bayt.