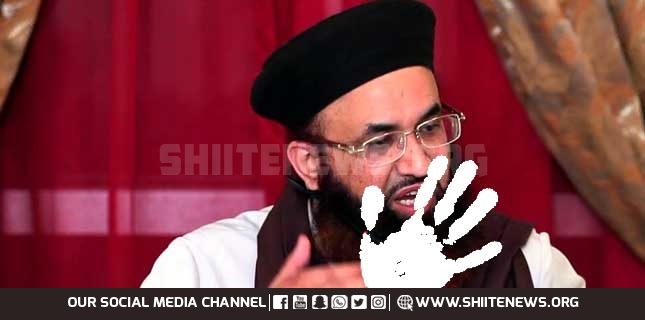 Sunni and Shia clerics condemn Ashraf Jalali on blasphemy of Bibi Fatima Zahra, the beloved daughter of Hazrat Mohammad (PBUH), the last apostle of God and Prophet of Islam and Humanity.
Tehreek-e-Labbaik cleric Dr Ashraf Asif Jalali's blasphemous remarks evoked instant reaction from Sunni and Shia Muslim scholars.
Sunni and Shia clerics condemn Ashraf Jalali
Notably, on behalf of shrine of Pir Maher Ali Golra Sharif, their representatives rejected Ashraf Jalali's reference.
Cleric JA Haq Mohammad said Jalali misquoted Pir Maher Ali Shah because Pir of Golra Sharif had an unwavering belief in purity and infallibility of Bibi Fatima Zahra.
Mufti Hanif Qureshi, Mufti Barkat Ahmed Chishti, Allama Ishtiaq Kazmi and many others condemned Dr Ashraf Asif Jalali.
Meanwhile, veteran Shia Islamic scholar Allama Qazi Niaz Hussain Naqvi said no Muslim can violate sanctity of Bibi Fatima Zahra.
Allama Sibtain Sabzwari of Shia Ulema Council said that anybody who perpetrate aforesaid blasphemy is nothing but deviant heathen.
Dr Ashraf Jalali has hurt the feelings of followers of Islam and Ahle Bayt (AS) across the world.
Some have filed case against him in the court of law and some have urged him to publicly repent for this grave (unpardonable) sin.
However, many have demanded his arrest and capital punishment to him.
Unfortunately, some people claiming them Sunni have begun sacrilege of Ahle Bayt (AS) on pretexts of defence of Sahaba (companions).
Factually, they have converted to nasbi Wahhabism and takfirism but impersonate them as Sunnis.
By and large, Pakistani Sunnis always revere Ahly Bayt, including Bibi Fatima Zahra and Maula Ali.
Like Shia Muslims, these Pakistani Sunni Bralevis also adore and revere Amirul Maumineen as Maula Ali.
However, nasbis, Wahhabis or takfiris always tried their best to defend Omayyad despotism in a bid to cover up or understate their crimes against Ahle Bayt.