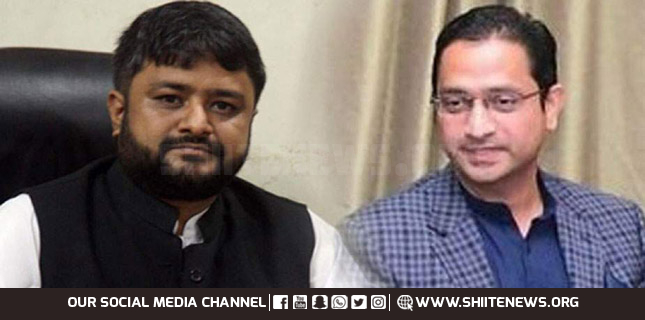 Allama Mubashir inquires after health of PTI MPA Khurram Sher Zaman after the latter tested positive for Coronavirus.
Majlis-e-Wahdat-e-Muslimeen Karachi chapter's leader called Member Provincial Assembly (MPA) Sindh belonging to Pakistan Tehreek-e-Insaf (PTI).
Allama Mubashir inquires after health of PTI MPA
The MWM official Allama Syed Mubashir Hassan Zaidi expressed well wishes and prayed for his immediate recovery.
Khurram Sher Zaman Khan also serves his party as Karachi Division chapter president.
He has undergone quarantine after having tested positive for Covid19.
The PTI official thanked Allama Mubashir for inquiring his health.
Meanwhile, Majlis-e-Wahdat-e-Muslimeen Sindh chapter secretary general said that government should ensure implementation of the SOP in letter and spirit.
Allama Baqir Abbas Zaidi alerted that irresponsible attitude towards SOPs despite around 120,000 Coronavirus cases in Pakistan, pose threat to the entire 220 million compatriots.
While declaring the government's alert and warning as inadequate, he also urged government to take stern action on violation of SOPs.
The MWM leader said that common man doesn't grasp profundity of threat which the deadly Coronavirus pandemic poses to them.
Hence, he called for more stiffened government policy to deal with the challenge.
On the other hand, the death toll from the Coronavirus (covid19) virus stood at 2,463 on Friday morning.
According to official update on Covid19, 6,397 new coronavirus cases have surfaced in the country over the last twenty-four hours. It raised the total tally to 125,933.
As many as 107 deaths reported over the last twenty-four hours.
Meanwhile, 40,247 patients have so far recovered from the disease.
28,344 corona tests also carried out during this period.