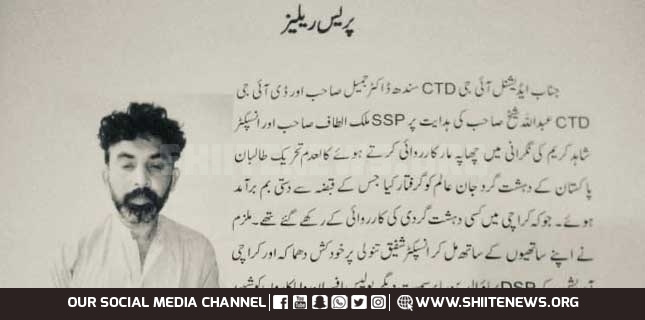 Deobandi terrorist arrested for blasts in Imam Bargahs and killing policemen and politicians.
Counterterrorism Department (CTD) of Sindh police arrested Jan Alam in Karachi.
Deobandi terrorist arrested for blasts
The CTD said he belongs to outlawed Tehreek Taliban Pakistan (TTP), a Wahhabis-influenced Deobandi takfiri terror group.
The cops from CTD seized hand grenades and other weapons from his possession.
He was hiding in a rented house in Karachi's Frontier Colony, where he had been planning terrorist activities and making bombs.
The CTD Operation SP Malik Altaf said that Jan Alam had been involved in two bomb blasts in the city, one at the Imambargah Azakhana-e-Kosar near Mominabad police station in 2013 and a hand grenade attack on the same police station in 2016.
He further said the TTP terrorist had also left a motorcycle filled with explosives near Aisha Manzil in 2013.
The terrorist Jan Alam also remained involved in attacks on Inspector Shafiq Tanoli, DSP Bahauddin Babar and Awami National Party (ANP) leader Bashir Jan while CTD also held him responsible for the blast at the grave of ANP's Ameer Sardar Ali in 2014.
According to the CTD officer, Taliban's Jan Alam had remained involved in the murders of several police officials and ANP leaders.
He said law enforcement agencies had been searching for Alam for several years. He added that Jan Alam had got (terror) training in Afghanistan and remained a commander of TTP's Mullah Fazalullah group after his predecessor Sher Bahadur's killing.
SP Malik Altaf stated that Alam was an expert in making pressure-cooker and motorcycle bombs. He had confessed to several crimes, including extortion, during initial investigations.