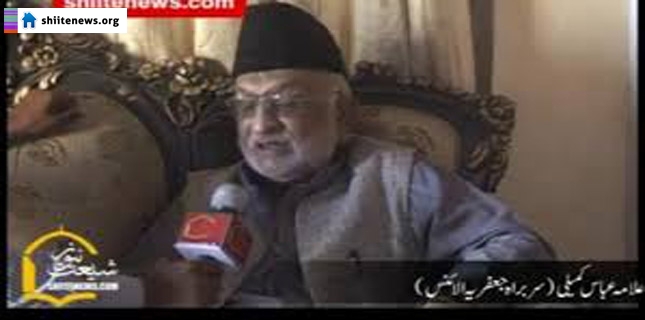 Jafaria Alliance remembers founder leader Allama Abbas Kumaili on first anniversary on first anniversary of his sad demise.
The alliance held a condolence meeting at its office in Karachi on Wednesday.
Jafaria Alliance remembers founder leader
Allama Razi Jafar Naqvi lauded services of Allama Kumaili for the Shia Muslim community in particular and for interfaith harmony and for Pakistan in general.
Besides, Allama Nisar Qalandari, Allama Rajab Ali Bangash, Allama Furqan Hyder Abidi, Allama Hussain Masoodi, Allama Baqir Hussain Zaidi and Shabbar Raza also shared views.
They said Allama Kumaili served the nation for four decades. He was a great khateeb, second to none.
Veteran Islamic scholar Allama Syed Razi Jafar said that humanity lost a sincere leader who worked interfaith unity, let alone intra-Muslim unity.
Now Allama Razi Jafar Naqvi leads Jafaria Alliance as a successor of Allama Kumaili.
Abbas Kumaili served Pakistan as a senator. Although MQM had fielded him as candidate for senator yet he secured that position under a deal between Jafaria Alliance and MQM.
He also defended oppressed people during his tenure as Senator. Allama Abbas Kumaili actively campaigned against the forces of terrorism and extremism throughout his life.
His son Ali Akbar Kumaili also embraced martyrdom in a terrorist attack.