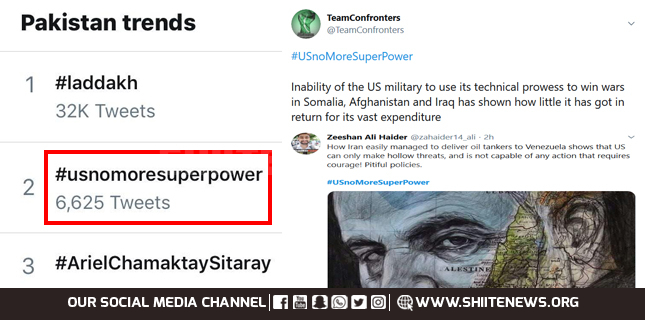 US no more super power became top trending on social media where #USnoMoreSuperPower won hearts and minds of Pakistani nation the most.
Pakistanis agree #USnoMoreSuperPower while social media activists made it top trending on Twitter in Pakistan on Tuesday night.
US no more super power became top trending
People slam the United States crimes against humanity across the world; specially wars in Afghanistan and Iraq.
Many condemn the United States because of its unqualified support for Israeli crimes against humanity in Palestine.
Some reproached United States of America's complicity in Indian government crimes against humanity in disputed Kashmir.
Pakistanis also believe that China is emerging as global leader while US has lost its global super power status.
Interestingly, Majlis-e-Wahdat-e-Muslimeen secretary general Allama Raja Nasir Abbas Jafari also tweeted.
Impression of American hegemony as Global leader diluted. The EXTRA- Ordinary USA simply become ORDINARY during COVID19. Washington is no more power center and world is looking towards China to lead. Good News Pakistan has strongest ties with Chinese #USnoMoreSuperPower

— Allama Raja Nasir (@AllamaRajaNasir) May 26, 2020